Spring Salads Roundup (20 Recipes!)
This website may contain affiliate links and advertising so that we can provide recipes to you. Read my privacy policy.
Spring salads are fresh, colorful, and full of flavor! This amazing roundup of incredible recipes is perfect for springtime, barbecues, and potlucks. With how delicious they are, you'll forget you're getting your daily dose of fruits and veggies!
I love springtime because you start to see the fresh ingredients making their debut again for the year! They are so versatile and delicious. Start by trying these tried and true spring salads: melon salad, corn salad, and strawberry broccoli salad.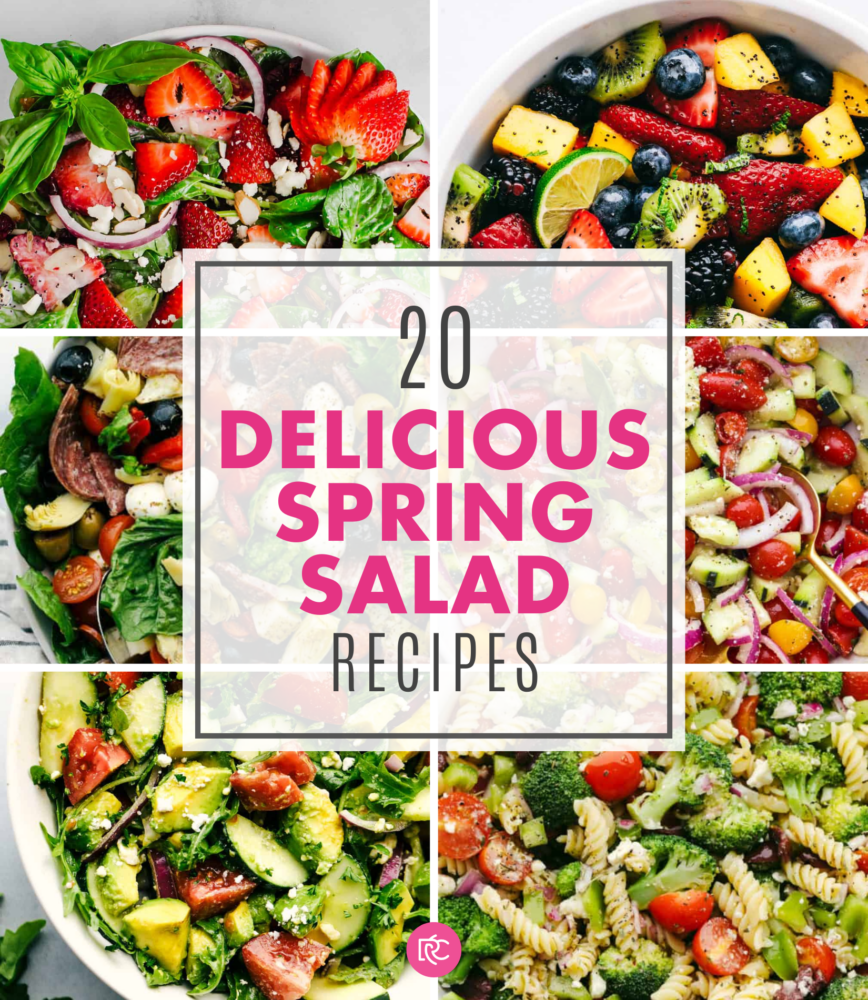 The Best Spring Salads
Spring salads are my absolute favorite way to incorporate fresh ingredients into my meals! There are so many different options and it can either be the best supporting role or the star of the show! The spring sunshine just makes me want to change up from fall and winter soups to fresh, chilled ingredients! Lighter meals that include lots of fruits and veggies really hit the spot! These recipes are absolutely divine. When you see the variety and how to mix some of these unusual flavors and ingredients together, you will be shocked at how tasty they are!
Spring salads have come a long way from plain greens and only a few types of dressing options. I wanted to round up some of my very favorite salad recipes for you to try- it's fun to switch things up! Especially when you're trying to eat clean. I made sure to include all different kinds of salads so that no matter what you are in the mood for, you will definitely find something that you love! Whether it's a fruit salad, a pasta salad, or a green salad, you really can't go wrong! Spring salads are not only tasty and delicious but they are gorgeous too. Full of amazing color and flavor, they're sure to be a hit at any meal or potluck!
Salad Tips and Tricks
I love that I can have a spring salad all on its own or I can add it to my meal. Here are a few tips for making the most of your salad and keeping the ingredients fresh and delicious!
Chopping: The fruits and some vegetables can brown and even lose their flavoring once sliced and added into the salad. Because of this, make sure that you don't cut things up too much before serving time! If you're making a salad ahead of time, add a squeeze of lemon juice to it. This will slow down the oxidization process.
Mixing: You want to be sure to add the dressing to the spring salad at the last minute. In a green salad, dressing can cause it to go soggy if the dressing is on it for too long. In a pasta salad, the pasta absorbs the dressing and you ill need to add more if you put it on too soon.
Substituting: The great thing about spring salads is how versatile you can make them. If you don't have some of the fruits and veggies that the recipe calls for, see what you have in your fridge or your garden! You can add and take away the ingredients that you prefer and really make it a salad just for you that you absolutely love!
Salad Mixing Bowl: When you are mixing your salad, don't underestimate that they get big and fast! Make sure you mix it in a large bowl! This way, you can avoid a mess of salad spilling over. When you use a large mixing bowl, none of your ingredients are left at the bottom, unmixed and without any dressing!! You can always transfer it to a smaller serving bowl later.
Storing a Spring Salad
Salad leftovers are so delightful! In a few cases (especially pasta salads!) they are even better the next day! Each salad is different so make sure to follow the tips on the individual recipe. But here are a few overall ideas for storing your salad!
Making it Ahead of Time: Prepare and add all the ingredients together and toss in a bowl. Make the dressing and store it separately. Keep both in airtight containers in the refrigerator and mix the salad and the dressing just before serving.
The Dressing: The dressing can be made ahead of time and stored in an airtight container. Store in the refrigerator up to 5 days.
In the Refrigerator: Spring salads are best stored in the refrigerator in an airtight container. Once the salad is already tossed together with the dressing it will last in the refrigerator 24 hours. Keeping the dressing separate will help the salad last 2 to 3 days longer, however, it is still best fresh.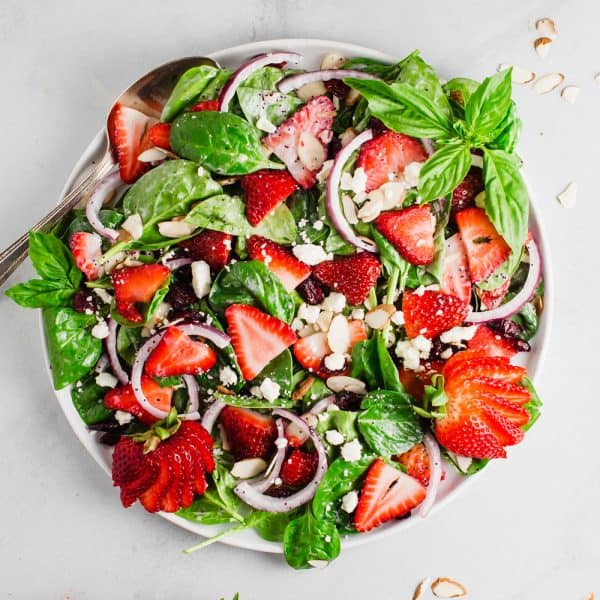 Strawberry Spinach Salad
Strawberry spinach salad is a perfect combination of fresh spinach, juicy strawberries, crunchy onions, and soft feta cheese; all tossed together with a creamy poppyseed dressing! All the flavor, texture, and deliciousness in one bowl!
Ingredients: package spinach, package strawberries, sliced almonds, red onion, feta cheese, craisins, mayonnaise, milk, sugar, apple cider vinegar, poppyseeds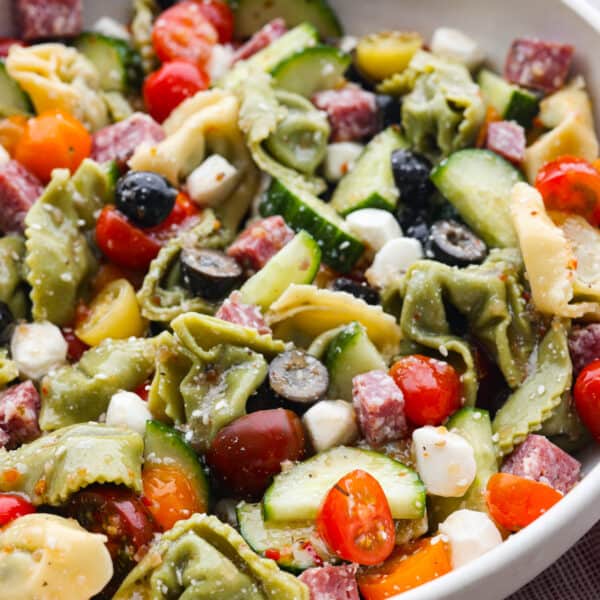 Easy Italian Tortellini Pasta Salad
Easy Italian Tortellini Pasta Salad is full of fresh summer veggies, salami, and tortellini pasta. It is tossed in a zesty italian dressing and is always the hit of the potluck!
Ingredients: refrigerated tortellini (I used spinach and cheese), cherry tomatoes, cucumber, olives, mozzarella cheese balls, italian salami, Italian salad dressing, grated Parmesan cheese, sesame seeds, paprika, celery seed, garlic powder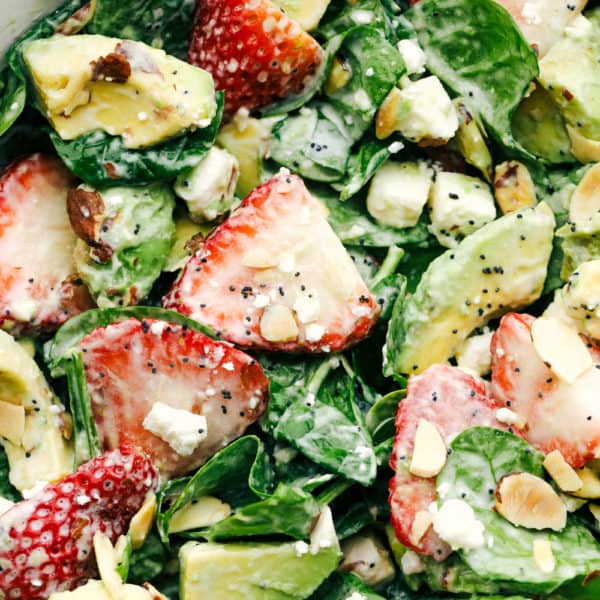 Strawberry Avocado Spinach Salad with Creamy Poppyseed Dressing
Fresh strawberries, sliced avocados, slivered almonds and feta cheese all tossed together with a homemade poppyseed dressing. This strawberry avocado spinach salad is so fresh and delicious and is a recipe that everyone will be raving about!
Ingredients: baby spinach, fresh strawberries,, large avocados,, sliced almonds, feta cheese, mayonnaise, 2% milk, sugar, cider vinegar, poppyseeds
Antipasto Salad Recipe
An Antipasto salad is filled with sliced meats, soft cheeses, green and black olives with bright red cherry tomatoes that is simple to toss together and enjoy in a homemade light lemon olive oil dressing. This is an Italian salad that everyone loves!
Ingredients: romaine, green olives, medium black olives, cherry tomatoes, mini pepperoni, jarred roasted red peppers, Genoa Salami, mozzarella cheese balls, artichoke hearts, provolone cheese, olive oil, lemon juice, Italian seasoning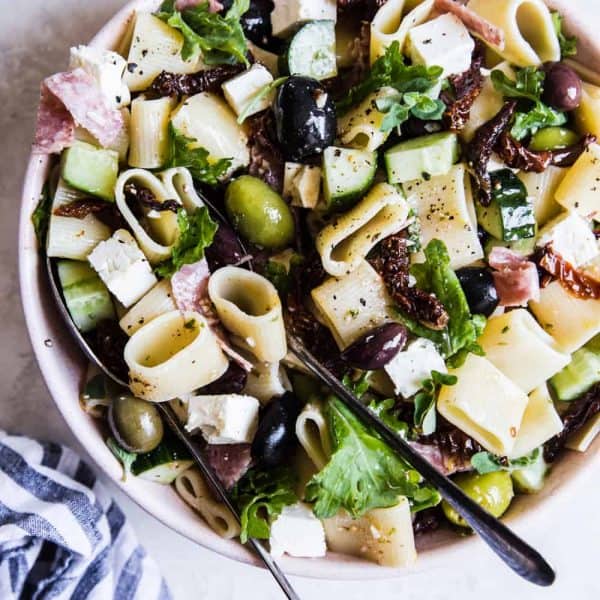 Mediterranean Pasta Salad
This easy Mediterranean Pasta Salad recipe is a twist on the classic, and includes exciting ingredients like sun dried tomatoes, kale, and salami. It is sure to become your new favorite pasta salad, and for good reason.
Ingredients: pasta, mixed olives sliced, jar sun dried tomatoes, salami, feta, english cucumber, baby kale, olive oil, red wine vinegar, fresh oregano, lemon, garlic cloves, pepper, sea salt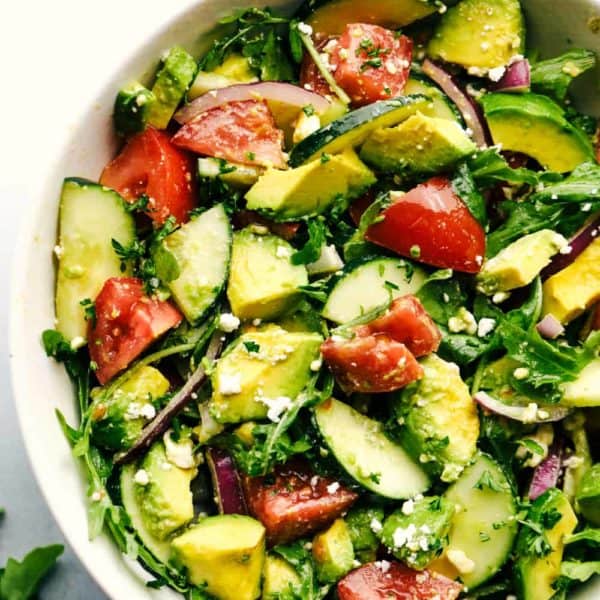 Avocado, Tomato and Cucumber Arugula Salad
Avocado, Tomato and Cucumber Arugula Salad is fresh, delicious and light and packed with amazing flavor! Tossed in a tangy lemon glaze and topped with feta cheese, you won't be able to get enough!
Ingredients: avocados, english cucumber, roma tomatoes, red onion, arugula, olive oil, lemon juice, salt and pepper, feta cheese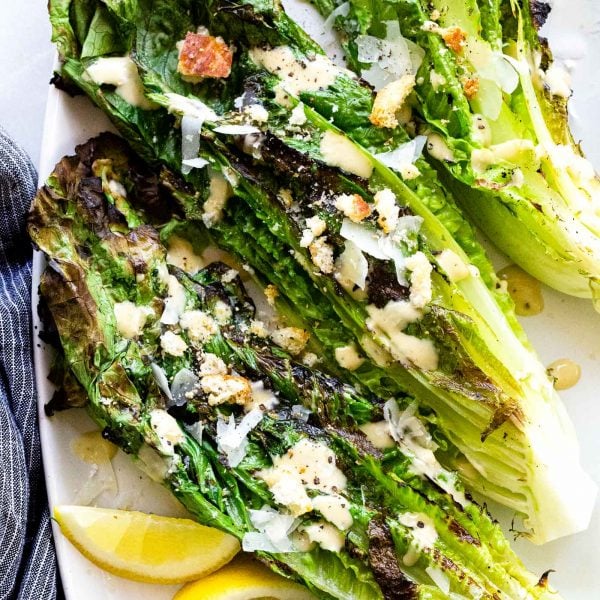 Grilled Caesar Salad
Grilled Caesar Salad with leafy sections of romaine seared on the barbecue to create a lightly charred texture then drizzled in homemade dressing.
Ingredients: mayonnaise, lemon juice, anchovy paste, dijon mustard, minced garlic, kosher salt, black pepper, extra-virgin olive oil, parmesan cheese, romaine, croutons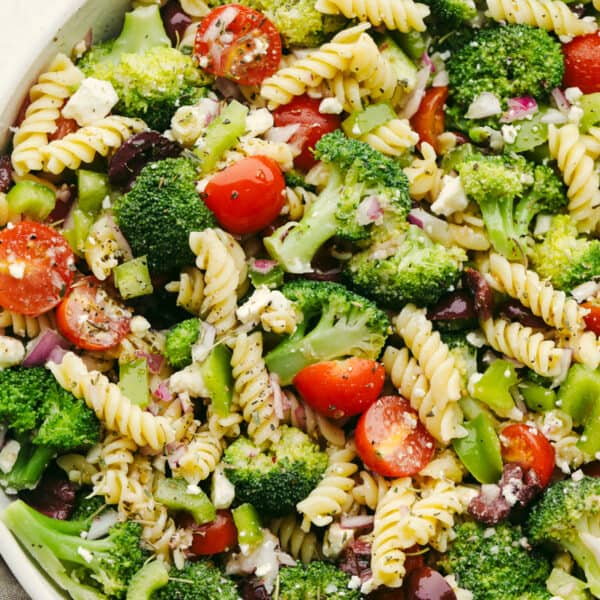 Greek Broccoli Pasta Salad
Greek Broccoli Pasta Salad combines tender fusilli pasta with fresh vegetables and a tangy herb dressing. This is the perfect dish to serve with grilled meats, or pack for a picnic or barbecue!
Ingredients: rotini pasta, broccoli florets, cherry tomatoes, diced green bell pepper, diced red onion, kalamata olives, crumbled Feta cheese, red wine vinegar, Dijon mustard, honey, minced garlic, dried oregano, kosher salt, black pepper, extra virgin olive oil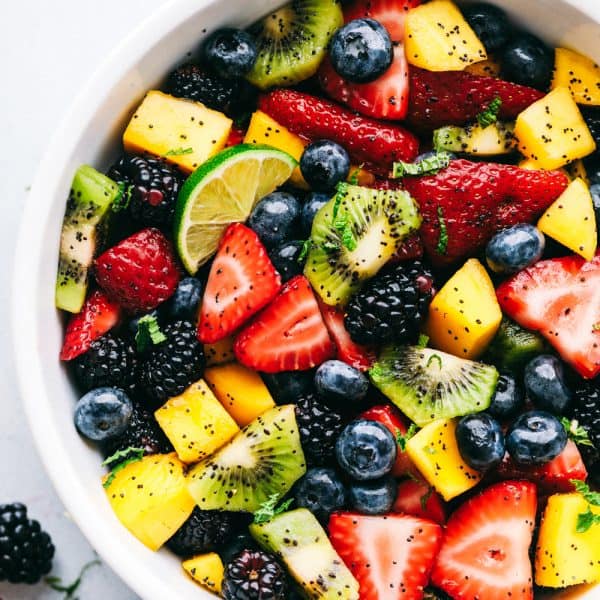 Honey Lime Poppy Seed Fruit Salad
A delicious and bright fruit salad made with fresh fruit and a delicious honey lime poppyseed glaze to go on top!
Ingredients: strawberries, blackberries, blueberries, kiwis, mangoes, Honey, Lime Juice, poppy seeds, Fresh Chopped Mint for garnish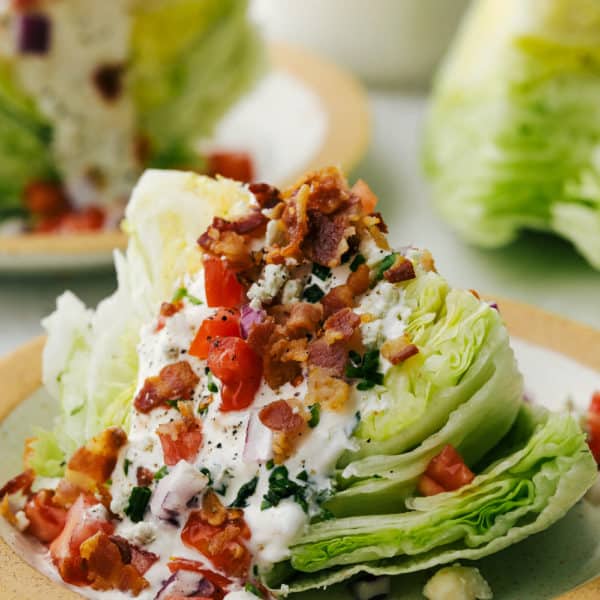 Wedge Salad
This classic wedge salad is a cool, crisp, and refreshingly tasty dish. Topped with bacon and blue cheese, this salad is simple to whip up, and it goes with just about anything! 
Ingredients: head iceberg lettuce, roma tomato, bacon, red onion, Homemade Blue Cheese Dressing , blue cheese crumbles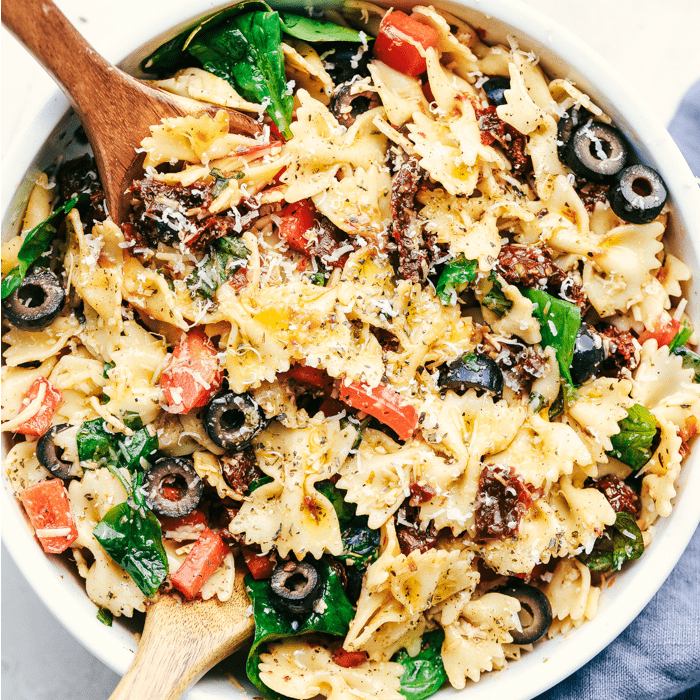 Tuscan Pasta Salad
Tuscan Pasta Salad is an easy pasta salad with sun dried tomatoes, peppers spinach, and olives tossed in a tangy dressing. This pasta salad is perfect for your next potluck!
Ingredients: bowtie pasta, jar sun-dried tomatoes in oil, red bell pepper, can sliced olives, spinach, basil, grated parmesan cheese, olive oil, white vinegar, water, salt, sugar, dry oregano, dry basil, garlic, black pepper to taste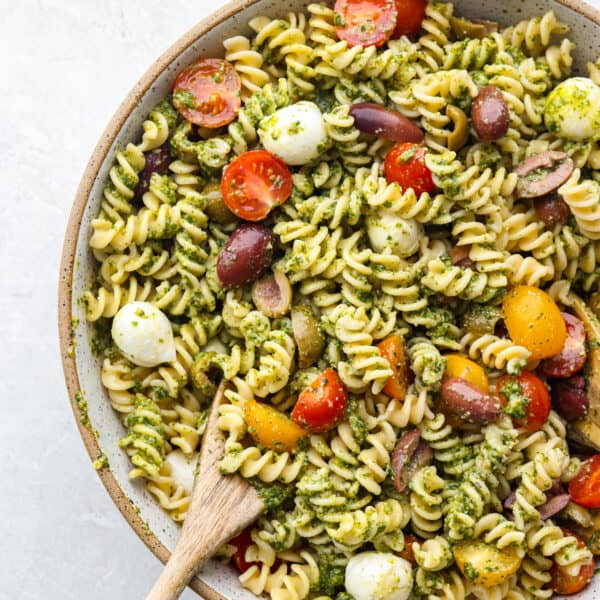 Pesto Pasta Salad
This pesto pasta salad is loaded up with fresh mozzarella, and juicy tomatoes, coated with an easy-to-make homemade pesto sauce made with fresh basil and garlic. It's so fresh and delicious! 
Ingredients: fresh basil, pine nuts, olive oil, garlic minced, grated parmesan, Fusilli pasta, prepared pesto sauce, diced cherry tomatoes, kalamata olives, fresh mozzarella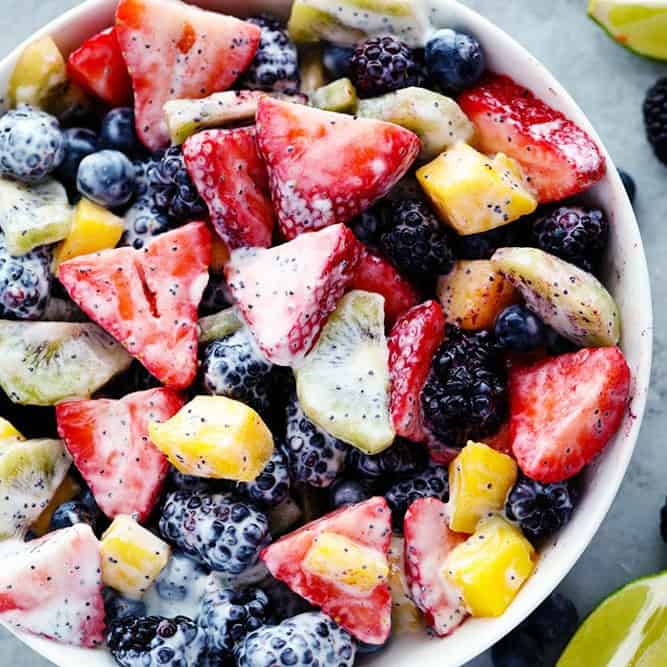 Creamy Poppyseed Fruit Salad
Creamy Poppyseed Fruit Salad is made with delicious mouthwatering fruit and tossed in a creamy poppyseed dressing. This will be a hit at your next potluck!
Ingredients: strawberries, large mango, kiwis, blackberries, blueberries, lite mayonnaise, low fat greek yogurt, lime juice, sugar, poppyseeds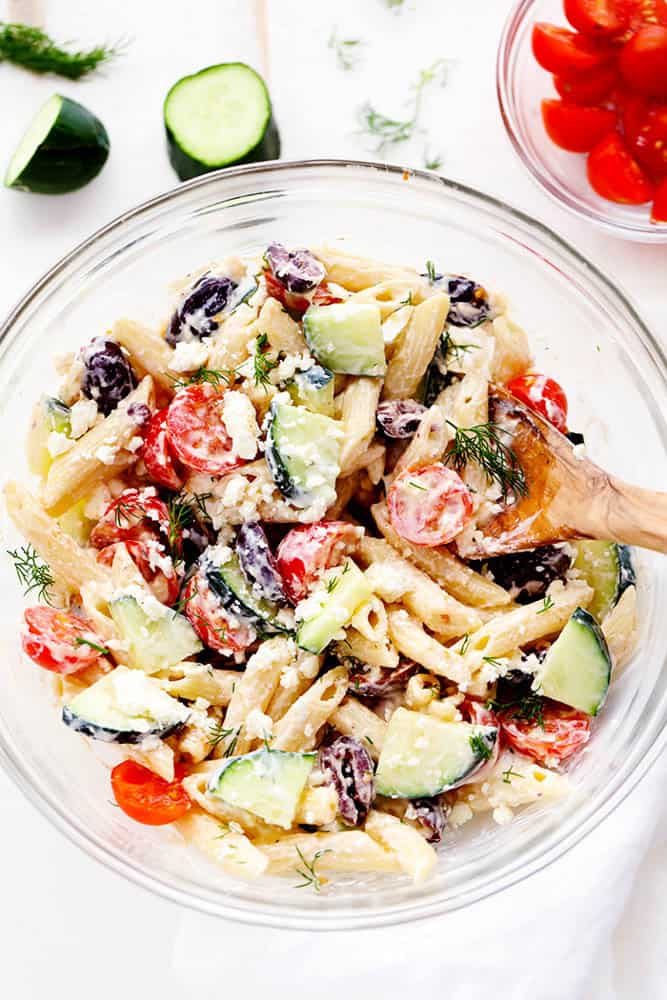 Greek Tzatziki Pasta Salad
Greek Tzatziki Pasta Salad is a delicious pasta salad with fresh cucumbers, kalamata olives, and cherry tomatoes. It is tossed in a tangy tzatziki dressing and is perfect for your next potluck!
Ingredients: 16-oz. package penne pasta, pitted kalamata olives, cucumbers, cherry tomatoes, crumbled feta cheese, low-fat plain Greek yogurt, olive oil, chopped fresh dill, lemon juice, salt, freshly ground pepper, garlic clove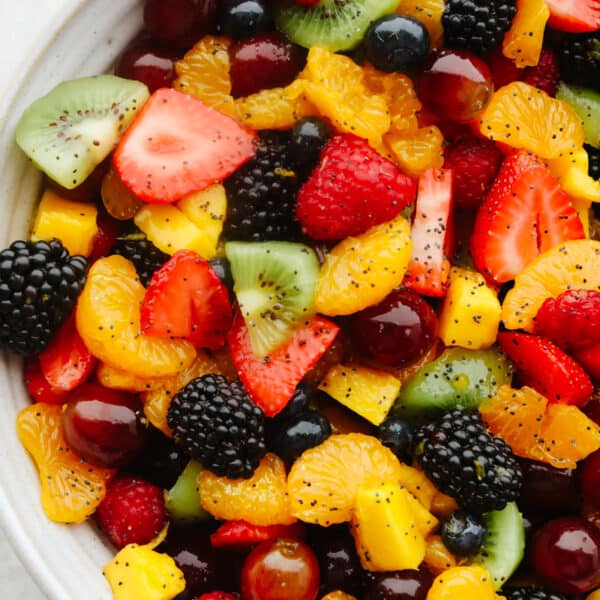 Blackberry Lime Fruit Salad
Blackberry Lime Fruit Salad showcases tons of fresh, summer fruit and has a delicious easy dressing. Refreshing, light, and sweet, this fruit salad will be eaten in no time!
Ingredients: orange juice, orange zest , juice and zest from one lemon, juice and zest large lime, honey, vanilla extract, poppyseeds, mandarin oranges, , fresh strawberries, kiwis, seedless grapes, blueberries, mangoes, blackberries, raspberries
Creamy Cucumber Salad
Creamy Cucumber Salad is a delicious and refreshing side dish. All it takes is a handful of fresh simple ingredients and 5 minutes. This is the perfect addition to your next summer barbecue!
Ingredients: English cucumber , small red onion, plain Greek yogurt , lemon- zest & juice, fresh dill , garlic , kosher salt, Fresh cracked pepper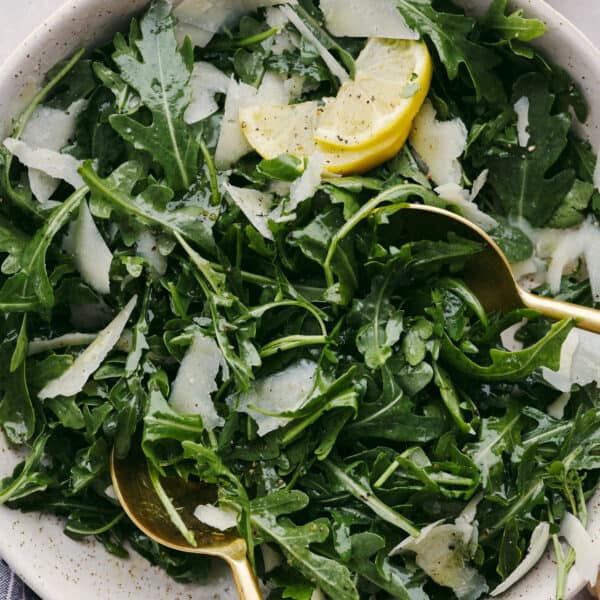 Classic Arugula Salad
This classic and simple arugula salad will elevate any meal! With only a few ingredients, it comes together quickly and the flavors of the arugula, Parmesan Reggiano, and lemon vinaigrette really shine together.
Ingredients: Baby Arugula, Parmesan Reggiano Cheese, , Lemon Vinaigrette, Kosher Salt & Cracked Black Pepper, , Olive Oil, Fresh Lemon Juice, Apple Cider Vinegar, Honey, Kosher Salt, Cracked Black Pepper
Creamy Pea Salad with Bacon
Creamy Pea Salad with Bacon is a popular southern dish that is filled with crunchy peas, crispy bacon, chopped red onions, and cheddar cheese. This is an easy to make side dish that is perfect for your next potluck! 
Ingredients: peas, red onion, cheddar cheese, bacon, parsley, sour cream, mayonnaise, cider vinegar, sugar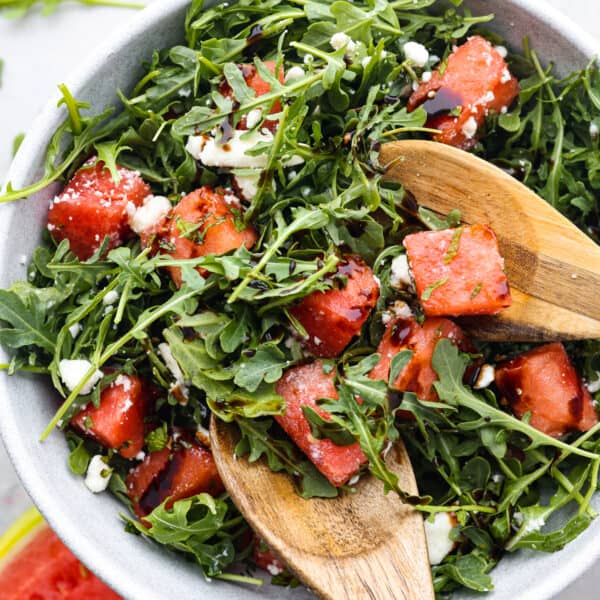 Watermelon Arugula Salad
Nothing beats a fresh and healthy watermelon arugula salad in the summertime! The sweet watermelon is a surprising complement to the peppery arugula, creamy feta cheese, and balsamic glaze. Don't knock it until you try it!
Ingredients: Baby Arugula, Seedless Watermelon,, Feta Cheese, , Lime, Balsamic Glaze, Fresh Mint,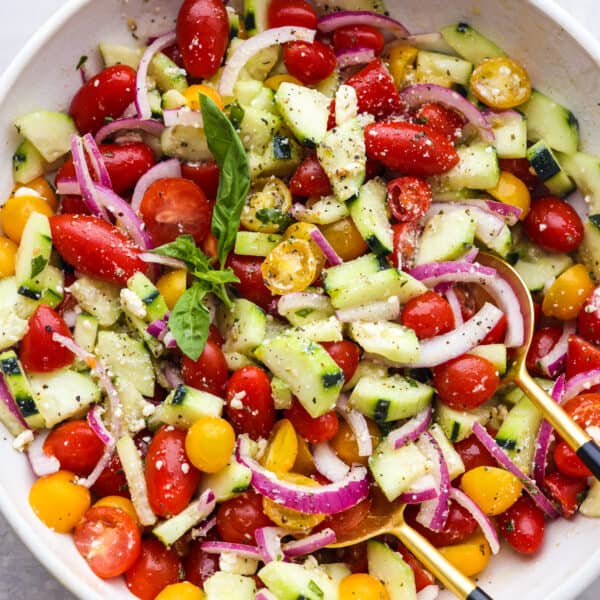 Chilled Cucumber Tomato Salad
Chilled Cucumber Tomato Salad is a refreshing salad made with fresh ingredients that everyone can enjoy all year round. It's fast, easy, and can be made ahead which makes it perfect for potlucks!
Ingredients: Olive Oil, Red Wine Vinegar, Sugar, Salt, ground Black Pepper, Chili Flakes, Basil, Parsley, Cherry or Grape Tomatoes, Cucumbers, Red Onion, Feta Cheese