Tofu marinated in a tangy, flavorful bbq sauce, then slow-cooked on the grill or smoker. It's the meatless dish your backyard barbecue needs!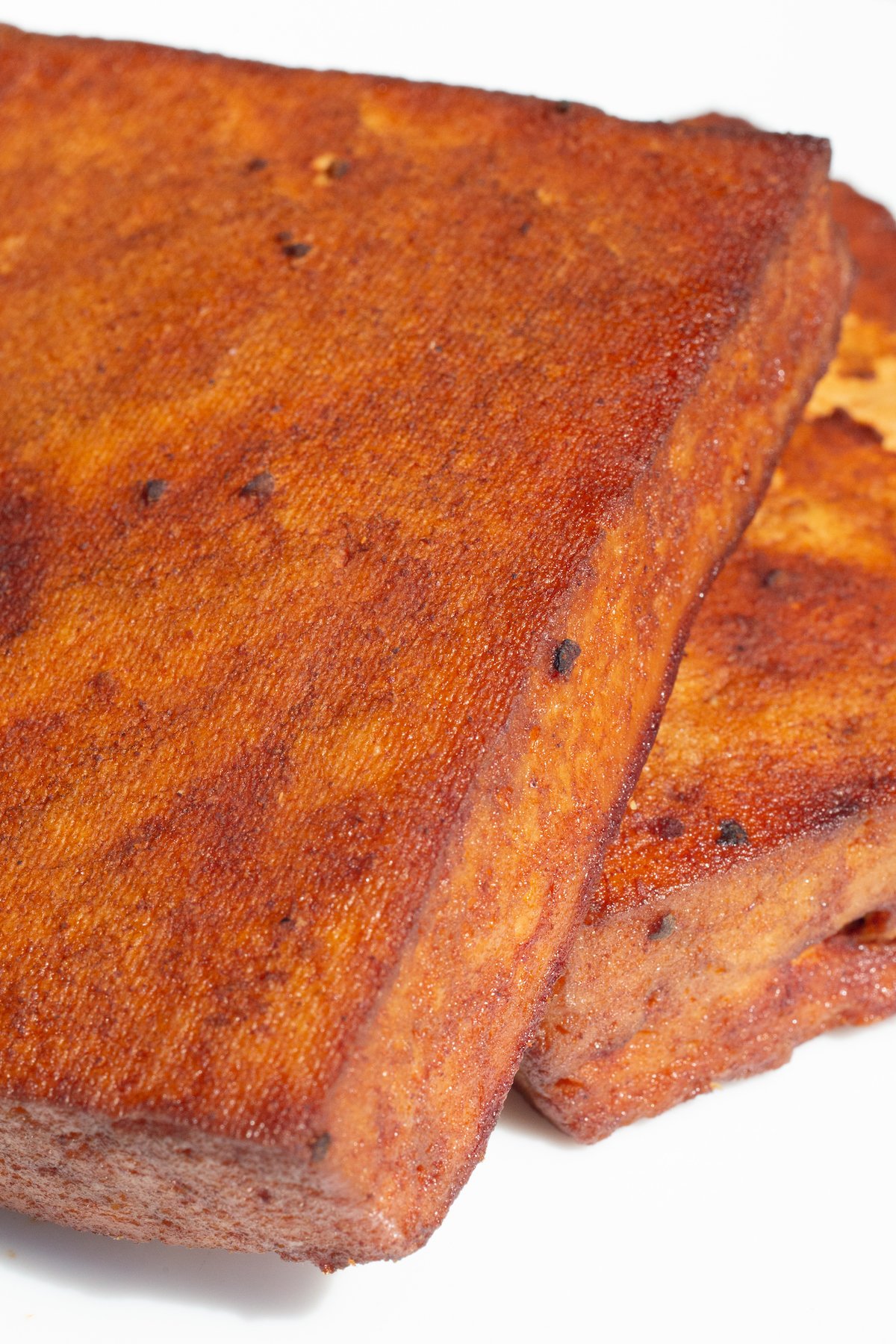 We have several vegetarians in our friend group, so I'm always looking for new meatless main dishes to try out on the smoker. 
After making it for the first time this year, smoked tofu quickly become a staple of ours. Even the carnivores typically gobble it up! 
If you aren't familiar with tofu, it's time to get to know it! It's sort of flavorless, a blank canvas just waiting to be turned into a masterpiece via marinades and spices.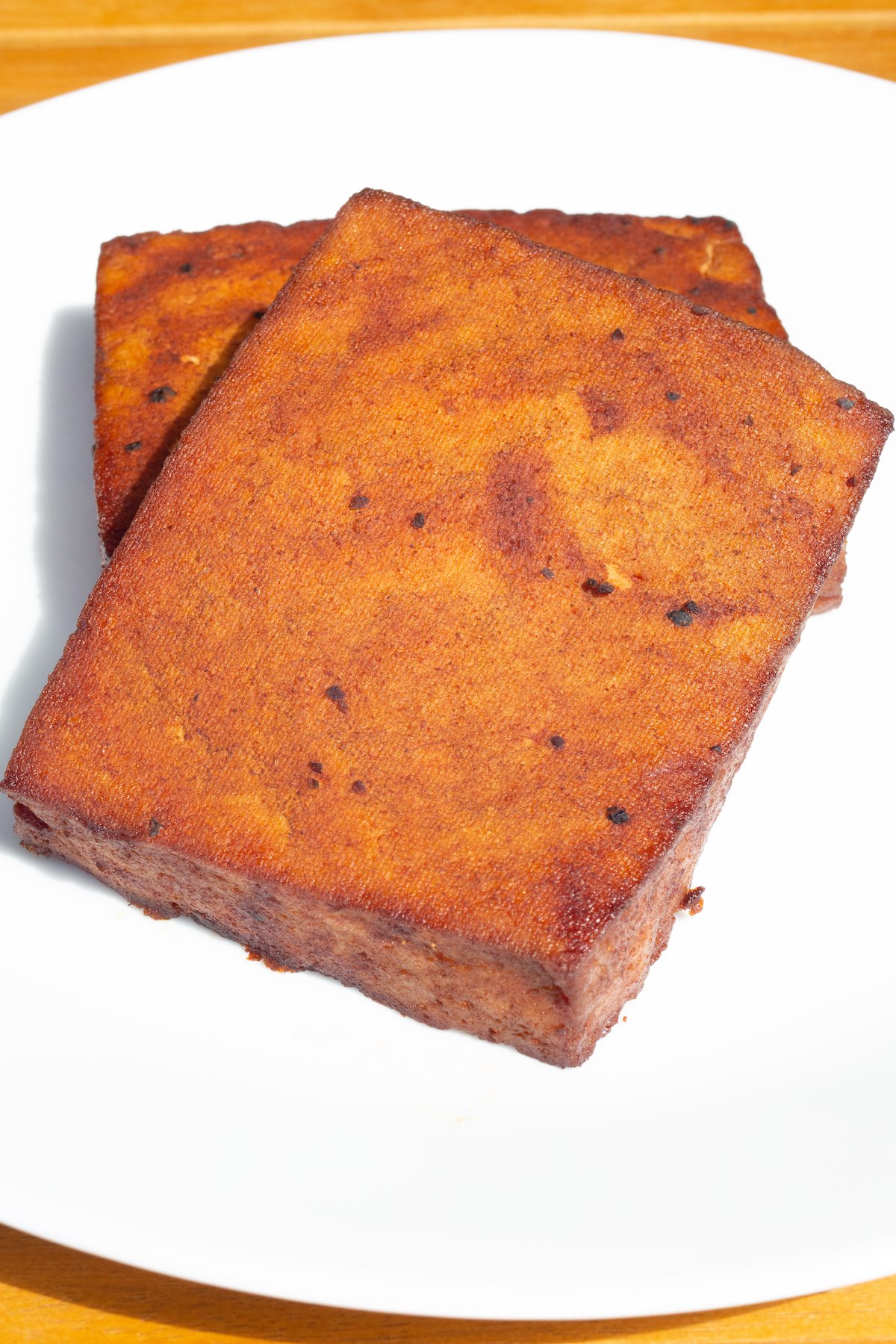 It's the high-protein chameleon of the food world, effortlessly absorbing flavors and textures. This makes it perfect for marinating in bbq sauce, then infusing it with a subtle smoky flavor. 
Ingredients
Tofu – You'll want to use extra firm for this recipe. 
BBQ Sauce – You can use any BBQ sauce you prefer, though I've found thinner vinegar-based marinate the best. I really like the taste of Franklin's. 
Wood – I use cherry wood or apple wood in my smoker for tofu. If you'd prefer a stronger smoky flavor, use hickory. 
This post contains affiliate links (when you buy we make a little money at no cost to you). See our disclosure for more information.
How To Make
Step 1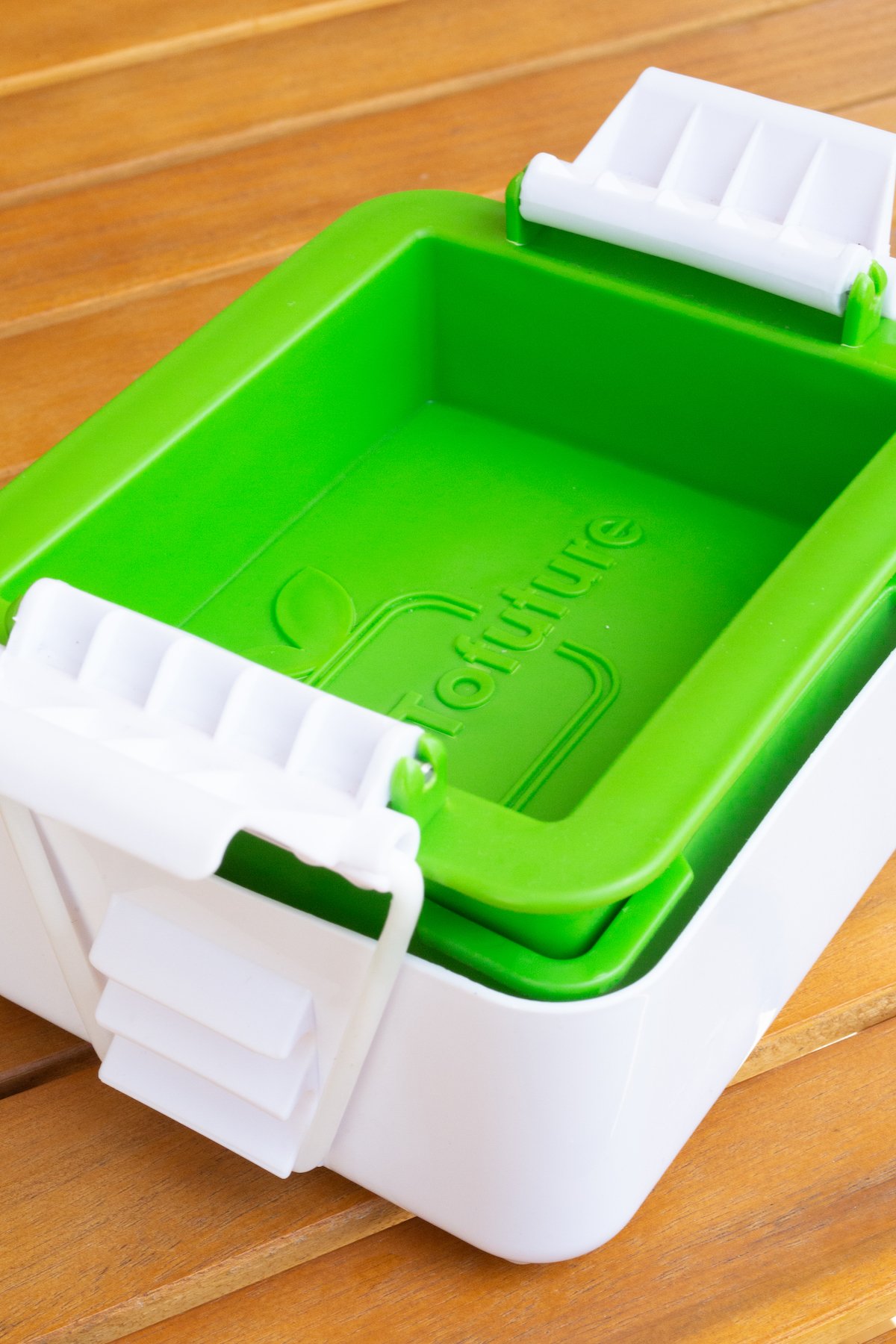 Be sure to press your tofu in advance. I suggest a minimum of 2 hours, or as long as overnight. 
I use a tofu press which is easy and convenient.
If you don't want to buy one, you can wrap your tofu in paper towels then put it on a dinner plate. Place a cast-iron pan on top. Add a few cans of beans for extra-weight and allow the tofu to press for at least 45-60 minutes.
Step 2
Slice your pressed block of tofu in half. 
Step 3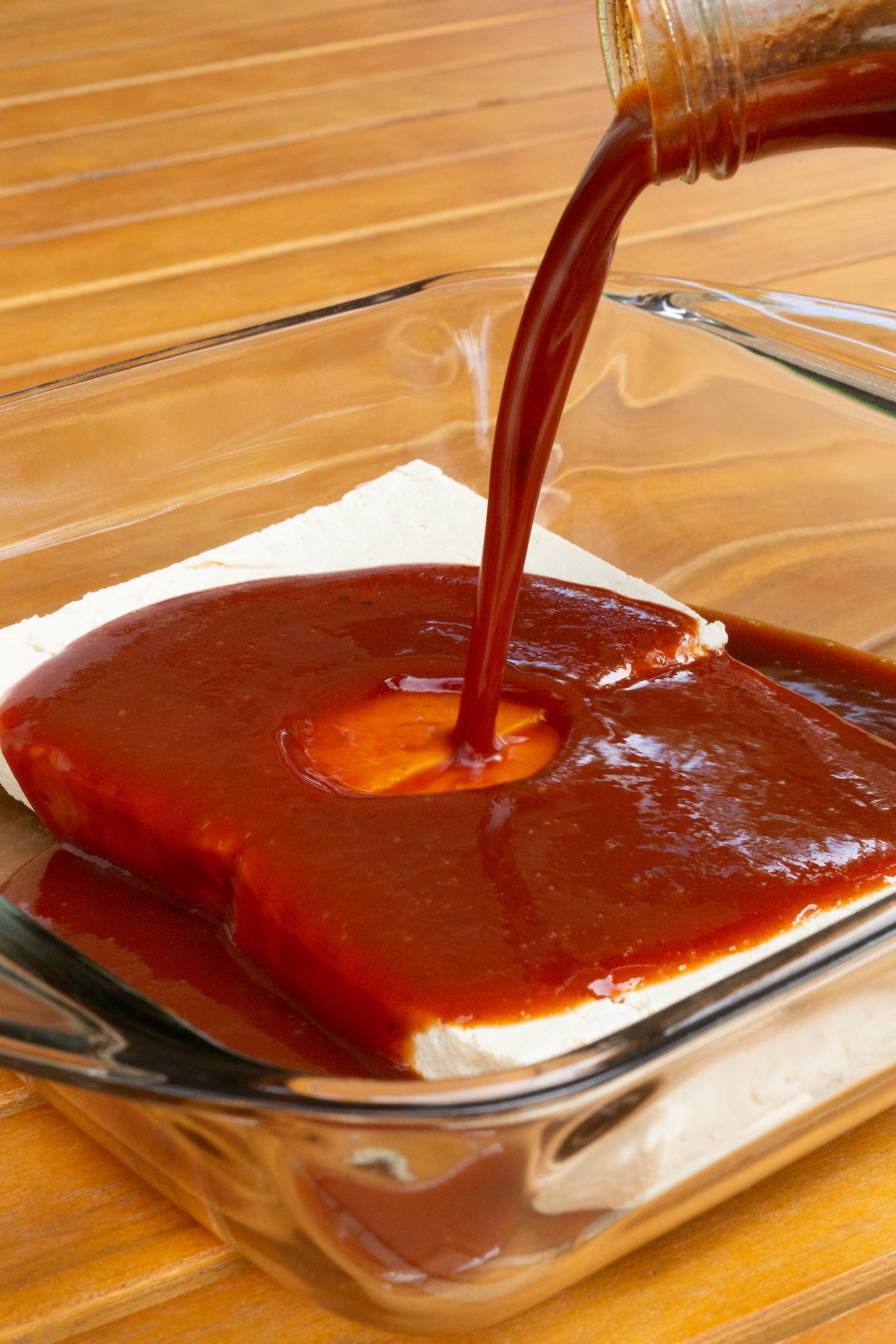 Place each tofu half in a baking dish and add enough bbq sauce to cover. Cover the dish and place in the fridge to marinate. At least 2 hours, up to overnight. 
Step 4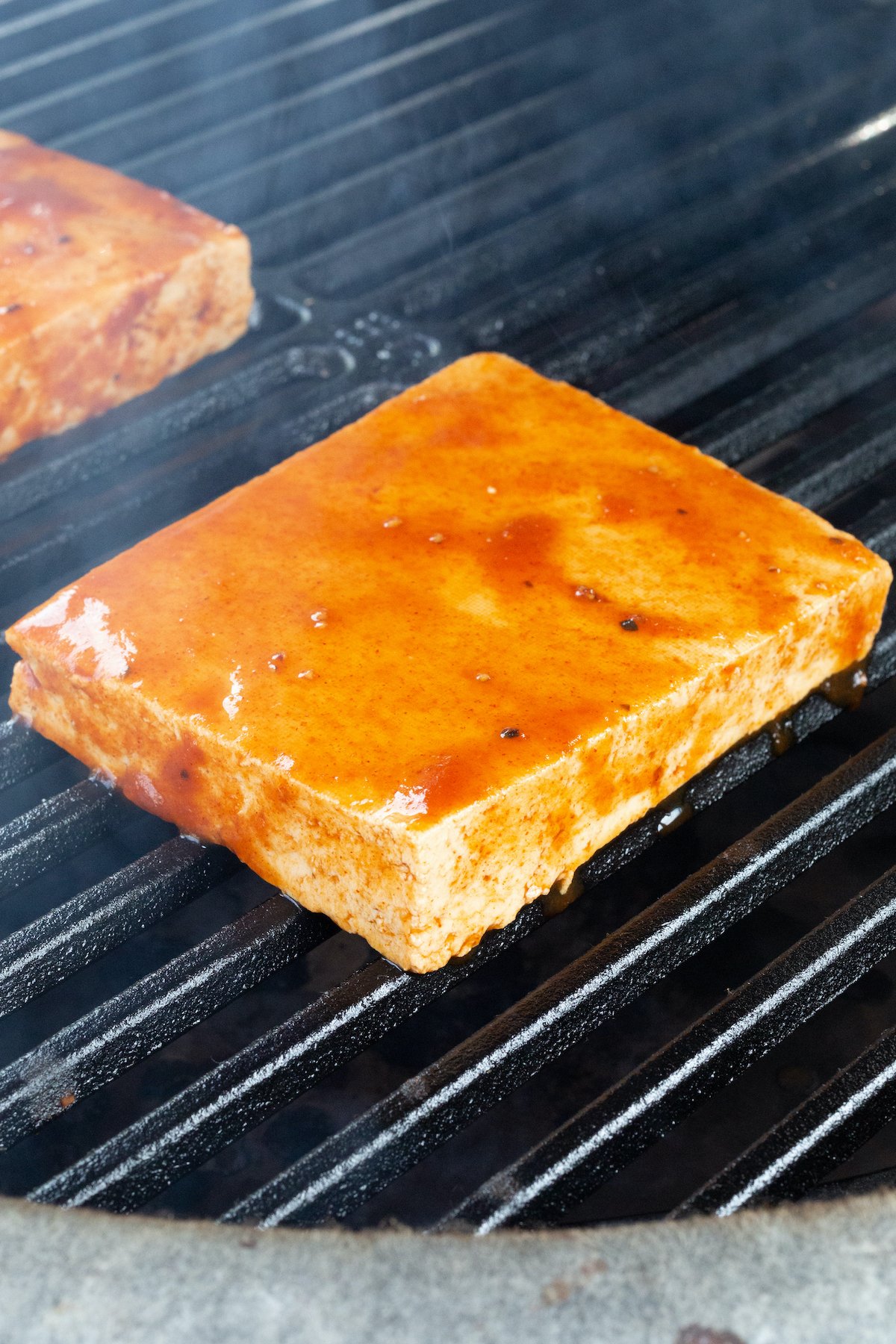 Preheat your smoker to 225°F. Once you have the temperature consistent, add the blocks of tofu to the grate. Smoke for 2 hours. 
Step 5
When the tofu is ready, it should have turned reddish brown and the outside will be dry with slightly crisp edges.
Tips
Press the tofu. Removing the excess water from the tofu by pressing it ensures it will have a pleasant, firm texture after smoking.
Consistent heat is key. If your smoker's temperature gets too high, your tofu can get too burnt and crispy. Use a wireless thermometer to keep an eye on it.
Keep an eye on the smoke. Too much smoke can make your tofu bitter. A light, steady stream of smoke is what you're aiming for.
Variations
"Steak"
Marinating the tofu in a mixture of coarse salt, freshly ground coarse pepper, Worcestershire and a squeeze of lemon juice makes it taste surprisingly similar to a steak. I like to serve it with steak sauce on the side. 
Dry Rub
I think a wet marinade imparts the strongest flavor into tofu, but you could experiment with dry rubs as well. Try my all-purpose bbq rub or this coffee rub that has a bit of a kick to it.
You could even branch out to something more unique, like lemon pepper or jerk spice. 
Sriracha
If you're a Sriracha lover, try marinating the tofu in a Sriracha/soy sauce/lime/honey mixture. You can use the marinade recipe from my Sriracha lime wings.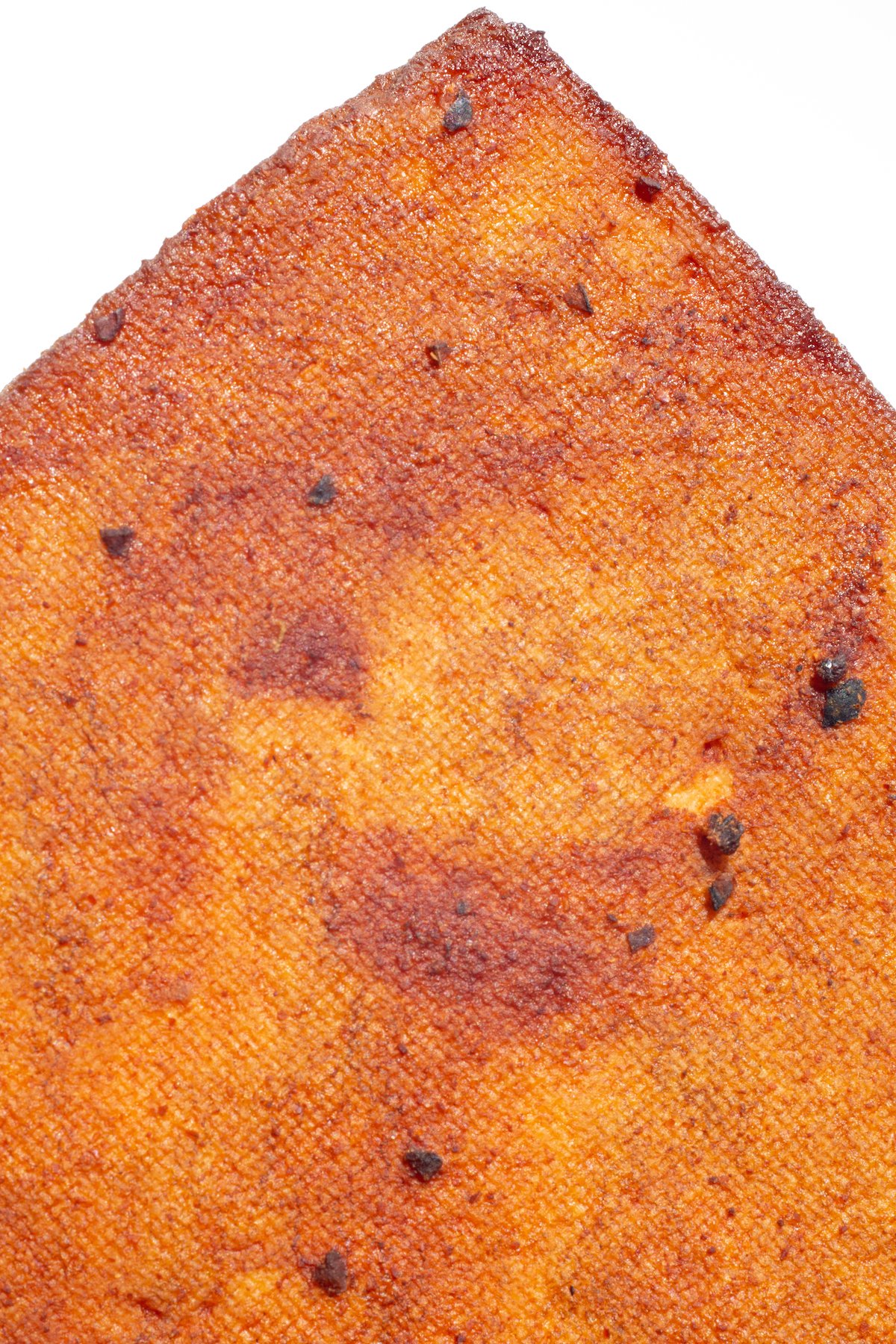 How To Serve 
As a main dish with sides like baked beans, potato salad, and smoked corn .
Serve on buns as a smoked tofu sandwich. I like to add coleslaw, pickles, and extra bbq sauce on mine. 
Chop and place on a salad. A add toppings like black beans, diced tomatoes, and tortilla strips to make a vegetarian southwest salad. 
As a pasta on top of noodles with steamed bok choy and shredded carrots or even on top of instant ramen to add some much needed protein.
FAQs
What does smoked tofu taste like?
It tastes like the bbq sauce you marinate it in with an added light smoke flavor. It sort of like eating a bbq chicken breast that has a softer, easier-to-chew consistency. 
How long does it last?
Smoked tofu will last up to 4 days when stored in an airtight container in the refrigerator. 
Can you freeze it?
Yes, you can freeze tofu for up to 1 year. Be aware that the texture will change a bit to a "spongier" consistency.
Print
Smoked Tofu
Tofu marinated in bbq sauce then cooked on the smoker.
Author: Jessica Pinney

Prep Time:

3 hours

Cook Time:

2 hours

Total Time:

5 hours

Yield:

4

1

x

Category:

Grilling

Cuisine:

American
Ingredients
1 block extra firm tofu
1 cup BBQ sauce
apple or cherry wood, for smoker
Instructions
Press tofu (I recommend this tofu press) for at least 2 hour to remove excess liquid.
After pressing tofu, slice the block in half. Place the two halves in a baking dish and cover with bbq sauce. Allow to marinate at least 2 hours up to overnight.
Pre-heat smoker to 225°F.
Once temperature is consistent, add the tofu on top of the grate. Close the lid and smoke for 2 hours, until the color of the tofu has turned reddish brown and the corners have gotten slightly crispy.
Enjoy immediately or allow to cool, then store in an airtight container in the fridge for later use.