This website may contain affiliate links and advertising so that we can provide recipes to you. Read my privacy policy.
Pasta is the best use of carbs! I've rounded up 30 of my favorite recipes that are sure to be a hit with your family! Whether you're wanting something cheesy, saucy, meaty, or something in between, there's a recipe for every craving! This pasta recipe roundup is definitely one to come back to time and time again.
I'm drooling just looking at all of these pasta recipes. They make the perfect hearty meal! To start you off, this quick and easy Instant Pot spaghetti is always a hit, as well as my reader-favorite Olive Garden chicken with pasta!
30 Must-Make Pasta Recipes
If you're wanting a dinner that everyone loves and that easily feeds a crowd, pasta is the way to go. (Is it just me, or does anyone else make enough spaghetti to feed an army?) I have more pasta recipes on the blog than I can count. Somehow I managed to narrow it down to 30 recipes that you need to add to your dinner lineup right now. There are all kinds of pasta featured here, as well as toppings and sauces! Slow cooker, Instant Pot, casseroles, they are all here! I've added a handful of pasta salad recipes as well so you're potluck-ready.
Pasta really is the best. It's always my go-to cheat meal. Sauced up, loaded with veggies, topped with cheese, hot, cold – I can't get enough! Without further ado, here is my list of 30 pasta recipes that you're going to absolutely LOVE! I've thrown in a few recipes for gnocchi as well as tips and tricks for perfecting your pasta! Get a load of this goodness…
Perfecting Your Pasta
Keep in mind that each of these recipes in this pasta recipe roundup can easily be customized! Switch out for your favorite kind of pasta or sauce. Anything goes when it comes to pasta!
Start With the Pasta: The best pasta dishes always start with tender, al dente noodles! Looking to try something new? See my guide on making the perfect tagliatelle pasta here.
Make it Low-Carb: Now, I know what you're thinking. The year just started and you're trying to stick to your New Year's resolution of eating healthier. You can make these recipes healthier by opting for zucchini noodles or protein-packed chickpea noodles!
Swap the Sauce: Feel free to swap out the sauce in these recipes for your favorite kind! I'm always an advocate for making pasta sauce from scratch. It just tastes better! Need some inspo? My homemade alfredo sauce is one of the most popular recipes on the blog! It's SO delicious and super easy to make. This Bolognese sauce, lobster ravioli sauce, and basil pesto sauce are a few more great options. You also can't go wrong with meaty, homemade spaghetti sauce!
Serve With: Now that you have entrée worked out, here are some tasty sides! Breadsticks are always a must. Try my copycat Olive Garden breadstick recipe here! I also have a great copycat recipe for their salad and Italian dressing.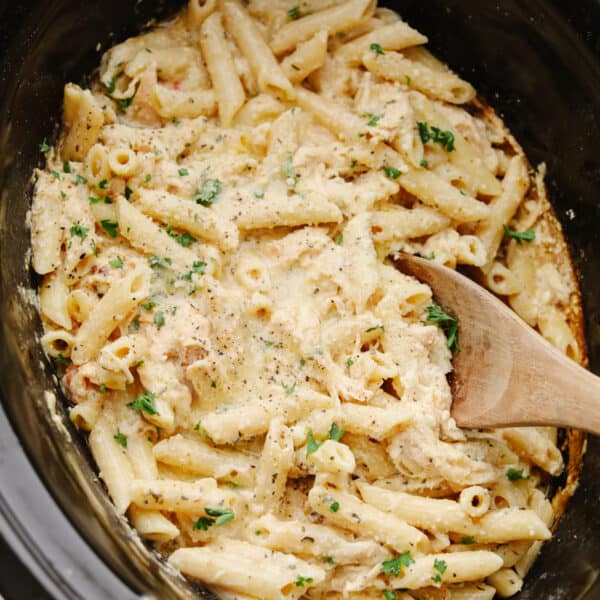 Crockpot Olive Garden Chicken With Pasta
This Olive Garden crockpot chicken is to die for! The juicy and tender chicken cooked with some pasta is insanely delicious! Plus, it's super easy which is a total win-win!
Ingredients: chicken breasts, Olive Garden Italian dressing, grated parmesan , cream cheese, cooked pasta
Baked Chicken Spaghetti
Baked chicken spaghetti is an easy dinner casserole. Tender pieces of chicken tossed with tender noodles and a creamy tomato sauce.
Ingredients: of water, kosher salt, spaghetti, olive oil, finely chopped yellow onion, minced garlic, Italian seasonings, marinara sauce, heavy cream, shredded chicken, shredded mozzarella cheese, shredded parmesan cheese, chopped parsley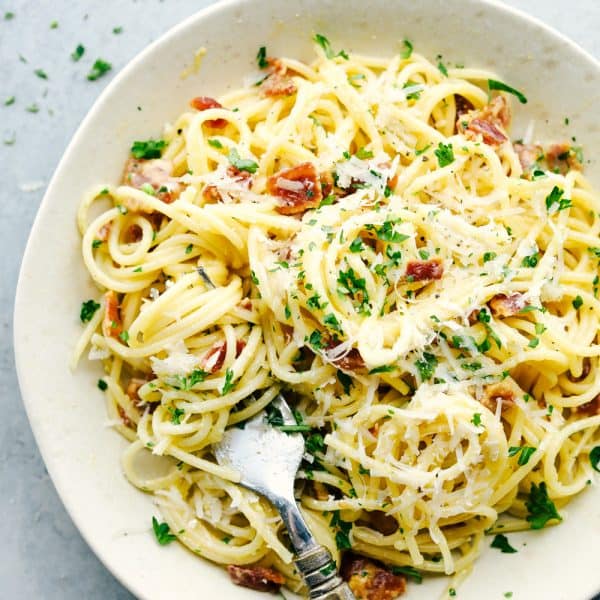 Creamy Bacon Carbonara
Creamy Bacon Carbonara is a classic Italian creamy pasta, bacon, mushrooms and onions cooked together and tossed in a cheesy egg mixture for an easy 30 minute meal!  A quick and easy dinner that is made in minutes!
Ingredients: eggs, Cream or Heavy Cream  , Parmesan, Fresh diced Parsley or dried flakes, Salt, Red Pepper flakes, *, bacon, mushrooms chopped, small onion chopped, pasta
Slow Cooker Ragu
This Slow Cooker Ragu recipe is easy to make, stick-to-your-ribs comforting, and makes a generous quantity that's freezer-friendly. The whole family will love it!
Ingredients: olive oil, onion, carrots, celery, ground beef, ground pork, garlic, can tomato paste, Italian seasoning, dried thyme, beef broth, dry red wine, heavy cream, Salt & pepper to taste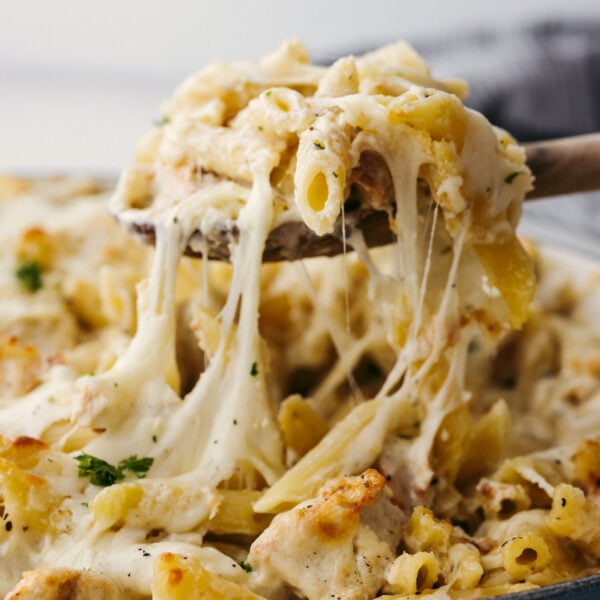 Baked Chicken Alfredo Pasta
This baked chicken alfredo pasta is classic and insanely delicious. Packed with Italian seasoning, shredded chicken, and penne pasta, this entree will become a family favorite! 
Ingredients: box of penne pasta, butter, heavy whipping cream or 2 cups, cream cheese, minced garlic, garlic powder, italian seasoning, salt, pepper, grated parmesan cheese, cooked chicken, mozzarella, parmesan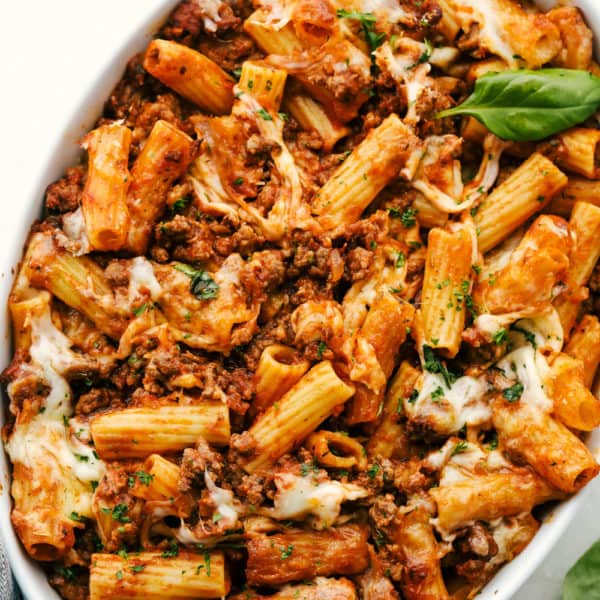 Baked Rigatoni
Baked Rigatoni is full of zesty meat, tender noodles and lots of cheese!  Super simple this is the ultimate comfort food!
Ingredients: rigatoni pasta, Olive Oil, small onion, garlic, lean ground beef, ground sausage, italian seasoning, salt and pepper, marinara sauce or Homemade Marinara , mozzarella cheese, parmesan cheese, chopped basil for garnish
10-Minute Pesto Pasta
10 minute pesto pasta is made with fresh basil, parmesan, pine nuts, and olive oil.  It brings incredible flavor to your pasta dish and is ready in no time at all! 
Ingredients: Basil leaves, garlic, Toasted Pine nuts, parmesan cheese, Extra-virgin olive oil, Salt & pepper to taste, pasta
California Spaghetti Salad
California Spaghetti Salad is a delicious pasta salad filled with fresh veggies and covered in a zesty Italian dressing.  With all those flavors and colors making one beautiful and tasty side dish, there is no doubt this will be the hit of your next gathering!
Ingredients: thin spaghetti, cherry tomatoes, zucchini, cucumber, green bell pepper, red bell pepper, red onion, ripe olives, Italian salad dressing, Parmesan cheese, sesame seeds, paprika, celery seed, garlic powder
Classic Baked Spaghetti
Classic Baked Spaghetti is the delicious casserole version of the traditional pasta and meat sauce. With multiple layers of cheesy buttered noodles, melted mozzarella cheese, and onion beef sauce you'll want to make this a new family favorite.
Ingredients: Spaghetti Noodles, Ground Beef, Onion, Pasta Sauce Jar, Salt, Eggs, Grated Parmesan Cheese, Butter, Cottage Cheese, Shredded Mozzarella Cheese, Fresh Basil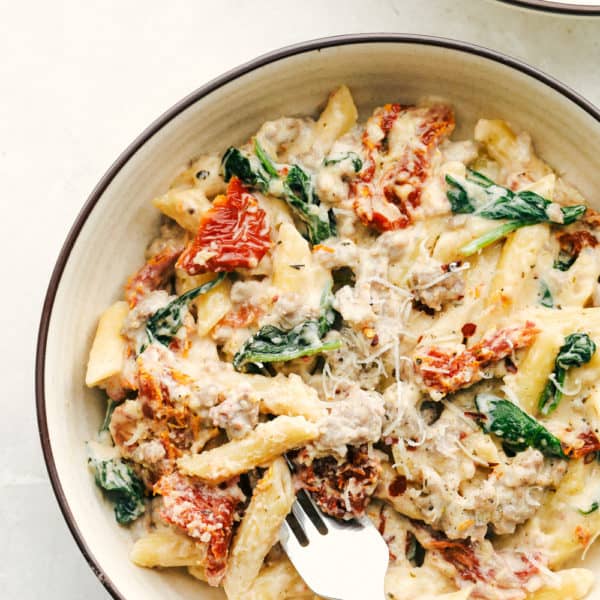 Creamy Tuscan Sausage Pasta
Creamy Tuscan Sausage Pasta is pretty much a one pan wonder you will want to cook over and over again!  Perfect for a busy night, this is a hearty comforting dish that will truly satisfy.
Ingredients: penne pasta, Ground Sausage, heavy cream, chicken broth, garlic powder, italian seasoning, parmesan cheese, spinach chopped, sun dried tomatoes
Penne alla Vodka
Penne alla Vodka is creamy, full of flavor and absolutely divine! This simple yet elegant dish is exploding with a creamy rich tomato sauce, and tender pasta. Perfect dinner anytime of the week!
Ingredients: penne pasta, olive oil, onion, garlic, vodka*, tomato sauce, diced tomatoes, drained, heavy cream, salt and pepper, chopped basil, parmesan cheese, red pepper flakes
AMAZING Bolognese Gnocchi
Bolognese Gnocchi is everything that you would hope for in an amazing Italian dish! Flavorful, bold, and full of delightful texture, this tried and true recipe is something that will definitely get you a "WOW!" from your family and friends!
Cacio e Pepe
Cacio e Pepe is a quick cheesy dish that's sure to hit the spot. This is a comfort food that's easy and insanely delicious!
Ingredients: thick spaghetti, butter, freshly ground coarse black pepper, Pecorino Romano Cheese
Bucatini all'Amatriciana
This classic bucatini all'Amatriciana is packed to the brim with flavor from spices and herbs! If you are looking for a recipe to impress your guests, then look no more. This is the one! 
Ingredients: olive oil, guanciale or pancetta, onion, garlic cloves, white wine, can whole tomatoes, salt and pepper, bucatini pasta, Romano cheese, basil for garnish
Shrimp Pasta Salad
This Shrimp Pasta Salad is going to become your new go-to for summer picnics and potlucks. With tender bits of shrimp, fresh veggies, and the fact that it is so easy to put together and take on the go, it is quickly becoming one of my favorite recipes of the season!
Ingredients: rotini noodles, celery, red bell pepper, red onion, cooked salad shrimp, mayonnaise, Juice and zest of half a lemon, dill, salt and pepper to taste
Spinach Artichoke Pasta
Spinach artichoke pasta is the perfect marriage of hearty and fresh! These ingredients complement each other and blend together so seamlessly that you will be asking for seconds in no time! 
Ingredients:
Butter, Flour, Garlic , Whole Milk, Cayenne Pepper,


Salt And Pepper (to taste)
, Parmesan Cheese , Mozzarella Or Monterey Jack Cheese , Low Sodium Chicken Broth , Baby Spinach, Artichoke Hearts , Penne, Italian Panko Breadcrumbs,


Crushed Red Pepper (to taste)
Spicy Chicken Rigatoni
The flavor of the sauce combined with alfredo and marinara was divine! The family loved it. This is definitely a keeper!
Ingredients: boneless skinless chicken breasts cut into super thin strips, garlic – minced, crushed red pepper flake, coarse black pepper, salt, olive oil, heavy cream, marinara sauce, peas, rigatoni noodles cooked al dente, butter, Sprinkle of fresh parmesan cheese and a pinch of red pepper flake for garnish.
One-Pot Chicken and Mushroom Fettuccine Alfredo
Chicken and Mushroom Fettuccine Alfredo is an easy weeknight or weekend meal made even faster if you have leftover chicken. One-pot means keeping this simple while everything is simmered together.
Ingredients: olive oil , white onion, chicken breast, chicken stock, heavy cream, cremini mushrooms, fresh basil leaf, salt, pepper, garlic powder, fettuccini noodles, grated parmesan , parmesan cheese
Sausage Pumpkin Pasta
This sausage pasta recipe with pumpkin sauce is an easy dish to make — it takes less than 30 minutes from start to finish. 
Ingredients: olive oil, extra lean sausage, garlic, onion, red bell pepper, yellow bell pepper, chicken broth, canned pumpkin, heavy cream, ground nutmeg, Salt and pepper, penne pasta, Freshly grated Parmesan cheese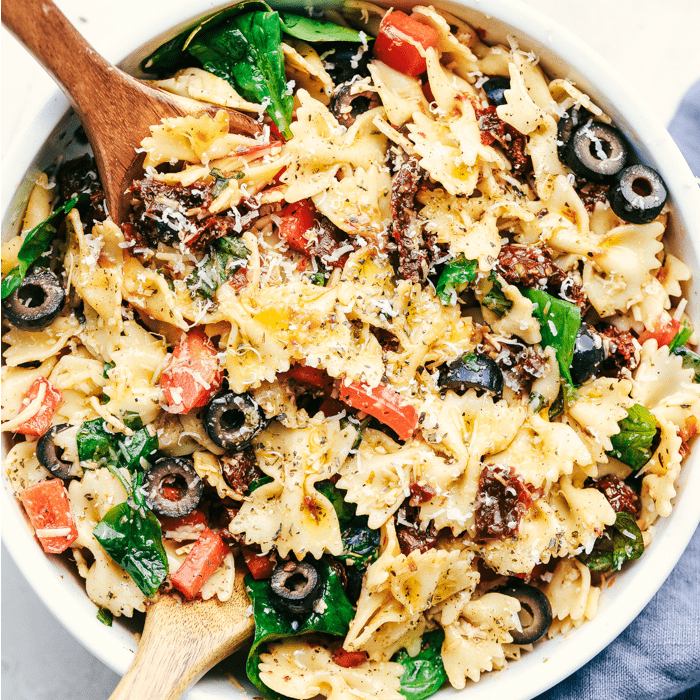 Tuscan Pasta Salad
Tuscan Pasta Salad is an easy pasta salad with sun dried tomatoes, peppers spinach, and olives tossed in a tangy dressing. This pasta salad is perfect for your next potluck!
Ingredients: bowtie pasta, jar sun-dried tomatoes in oil, red bell pepper, can sliced olives, spinach, basil, grated parmesan cheese, olive oil, white vinegar, water, salt, sugar, dry oregano, dry basil, garlic, black pepper to taste
Baked Ravioli
This baked ravioli is a knockout dinner that is sure to be loved by all! It's smothered in melty mozzarella, parmesan, and a tasty meat sauce!
Ingredients: refrigerated ravioli, ground beef, Italian Seasoning, homemade marinara , mozzarella cheese, grated parmesan cheese, freshly chopped basil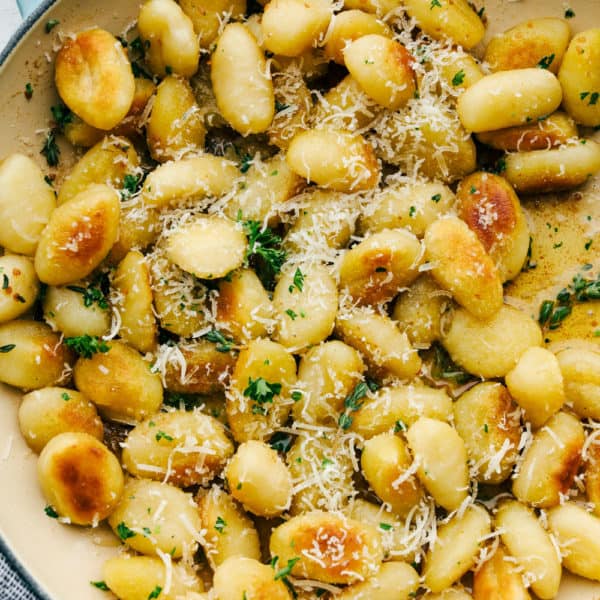 Brown Butter Garlic Fried Gnocchi
Brown Butter Garlic Fried Gnocchi are tender morsels tossed in a buttery herb sauce you are going to love! Super easy and quick, this is a perfect dish for busy nights or unexpected guests!
Ingredients: Olive Oil, potato gnocchi, butter, garlic, fresh thyme, parmesan cheese
Lemon Chicken Pasta Salad
A simple chicken pasta salad with a delicious lemon herb dressing!
Ingredients: pasta, rotisserie chicken, sun-dried tomatoes, jarred marinated artichoke hearts, of 1 full English cucumber, kalamata olives, lightly packed fresh arugula, fresh flat leaf Italian parsley, small avocado, feta cheese, red wine vinegar, and ½ tablespoons dijon mustard, dried oregano, dried basil, garlic, honey, olive oil, freshly squeezed lemon juice, Fine sea salt and freshly cracked pepper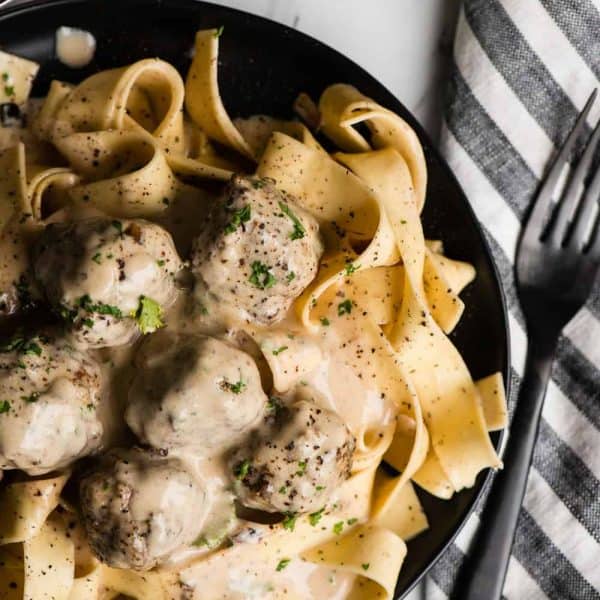 Swedish Meatball Pasta
Swedish Meatball Pasta combines flavorful homemade pork and beef Swedish meatballs with a heavenly cream sauce and perfectly cooked pasta.
Ingredients: ground pork, ground beef, panko bread crumbs, fresh parsley, ground allspice, ground nutmeg, onion, garlic powder, pepper, salt, egg, olive oil, butter, flour, beef broth, heavy cream, Worcestershire sauce, dijon mustard, salt and pepper to taste, pasta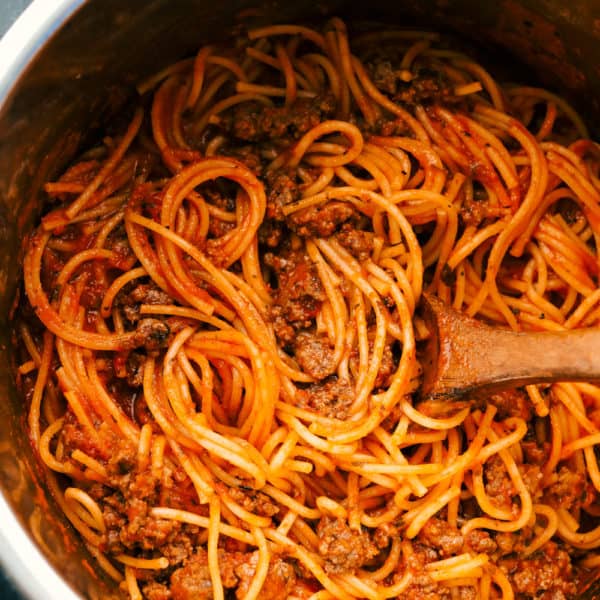 10 Minute Instant Pot Spaghetti
For those nights when you need something fast and easy turn to 10 minute Instant Pot Spaghetti. Superbly seasoned beef and tender noodles all cook together in a delectable sauce and is ready in no time.
Ingredients: olive oil, ground beef, Italian seasoning, garlic powder, salt, pepper, spaghetti noodles, marinara sauce, water
Chicken Scampi
Crispy breaded chicken, angel hair pasta, and an amazing lemon garlic butter sauce combine to make this knockout chicken scampi. It's light, flavorful, and ready in less than 30 minutes!
Ingredients: angel hair pasta, Olive Oil, red bell pepper, yellow bell pepper, red onion, boneless chicken tenders, Italian seasoning, salt and pepper, flour, butter plus one tablespoon, garlic cloves, white wine, juice of half a lemon, parsley, grated parmesan for serving
Pesto Alfredo Chicken Casserole
My favorite homemade garlic alfredo sauce is combined with pesto giving this casserole amazing flavor!  It is creamy and delicious and sure to be a hit at the dinner table!
Ingredients: penne pasta, chicken, Italian cheese blend, fresh baby spinach, crushed tomatoes, pesto, butter, heavy whipping cream, cream cheese, garlic, garlic powder, italian seasoning, salt, pepper, parmesan cheese, seasoned bread crumbs, Parmesan cheese, olive oil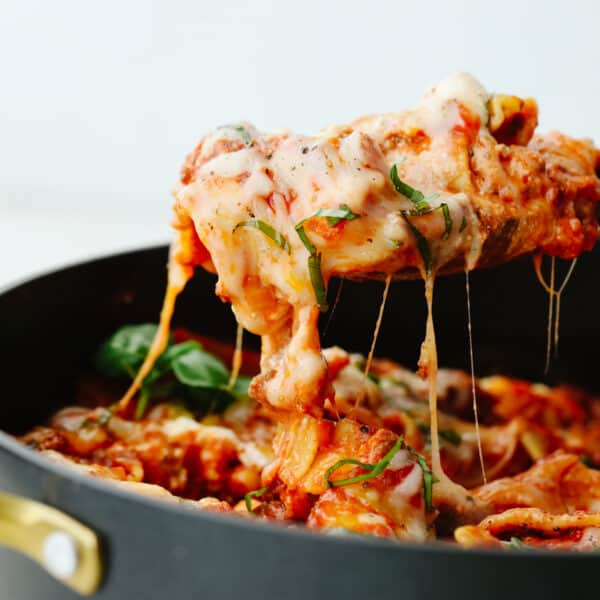 The BEST Skillet Lasagna
Skillet lasagna is the absolute best comfort food! It is so full of flavor that creates that authentic Italian taste. It is quick and easy and a family favorite that you MUST try!
Ingredients: lean ground beef, ground sausage, onion, garlic, Italian seasoning, salt, pepper, lasagna noodles*, homemade marinara sauce, ricotta cheese, parmesan, mozzarella cheese, fresh chopped basil for garnish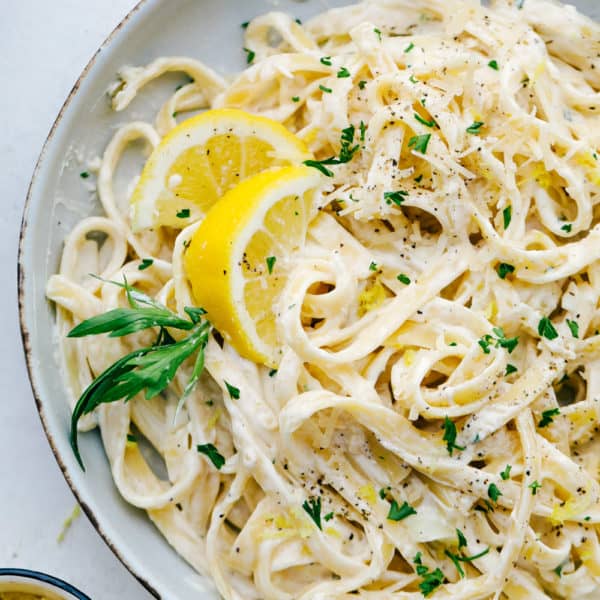 Lemon Garlic Cream Fettuccini
Delicious and creamy fettuccini with added lemon and garlic for the perfect twist.
Ingredients: fettuccini, butter, small onion, garlic cloves, lemon peel, heavy whipping cream, salt, pepper, cream cheese, lemon juice, fresh parsley, grated parmesan cheese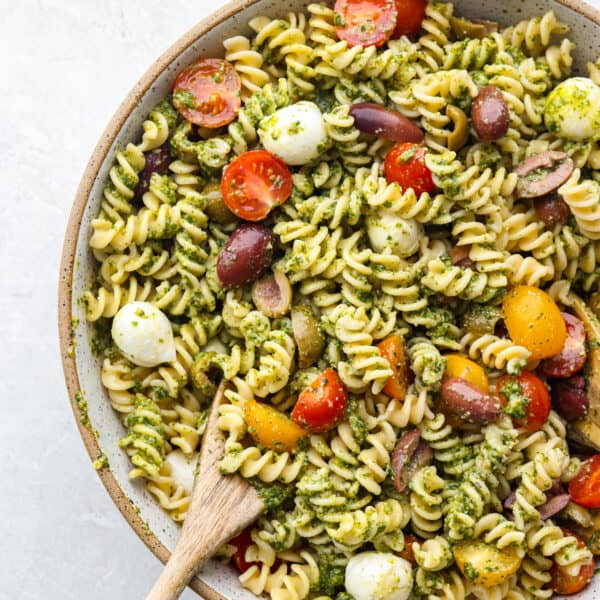 Pesto Pasta Salad
This pesto pasta salad is loaded up with fresh mozzarella, and juicy tomatoes, coated with an easy-to-make homemade pesto sauce made with fresh basil and garlic. It's so fresh and delicious! 
Ingredients: fresh basil, pine nuts, olive oil, garlic minced, grated parmesan, Fusilli pasta, prepared pesto sauce, diced cherry tomatoes, kalamata olives, fresh mozzarella