Looking for a sweet, tart and spicy alcohol shot? Try the Mexican Candy Shot made with tequila and watermelon liqueur.
If you love fruity shots and aren't afraid of a little spice, you'll love these Mexican candy shots!
They are sometimes called a Mexican lollipop or a shot de paleta because their flavor profile is inspired by a Mexican watermelon lollipop candy covered in chamoy sauce and chili powder.
This shot recreates that flavor with watermelon schnapps, tequila, hot sauce, and Tajin. It is sure to hit all the notes of your taste buds!
Ingredients
Tequila – Silver or blanco tequila works best.
watermelon liquor – I use watermelon schnapps. You can also substitute fresh watermelon juice for a lower ABV.
Hot sauce – I like to use chamoy in this plan, but you can use any hot sauce you like. Cholula or Tapatio are excellent choices.
Starch –Tajin is a bottled blend of Mexican spices. You can use it to create a spicy and flavorful rim on your shot glass.
Lime – I like to serve a wedge of lime as a garnish and squeeze it into the shot before shooting. This is completely optional.
This post contains affiliate links (when you buy we earn some money at no cost to you). See our disclosure for more information.
How to do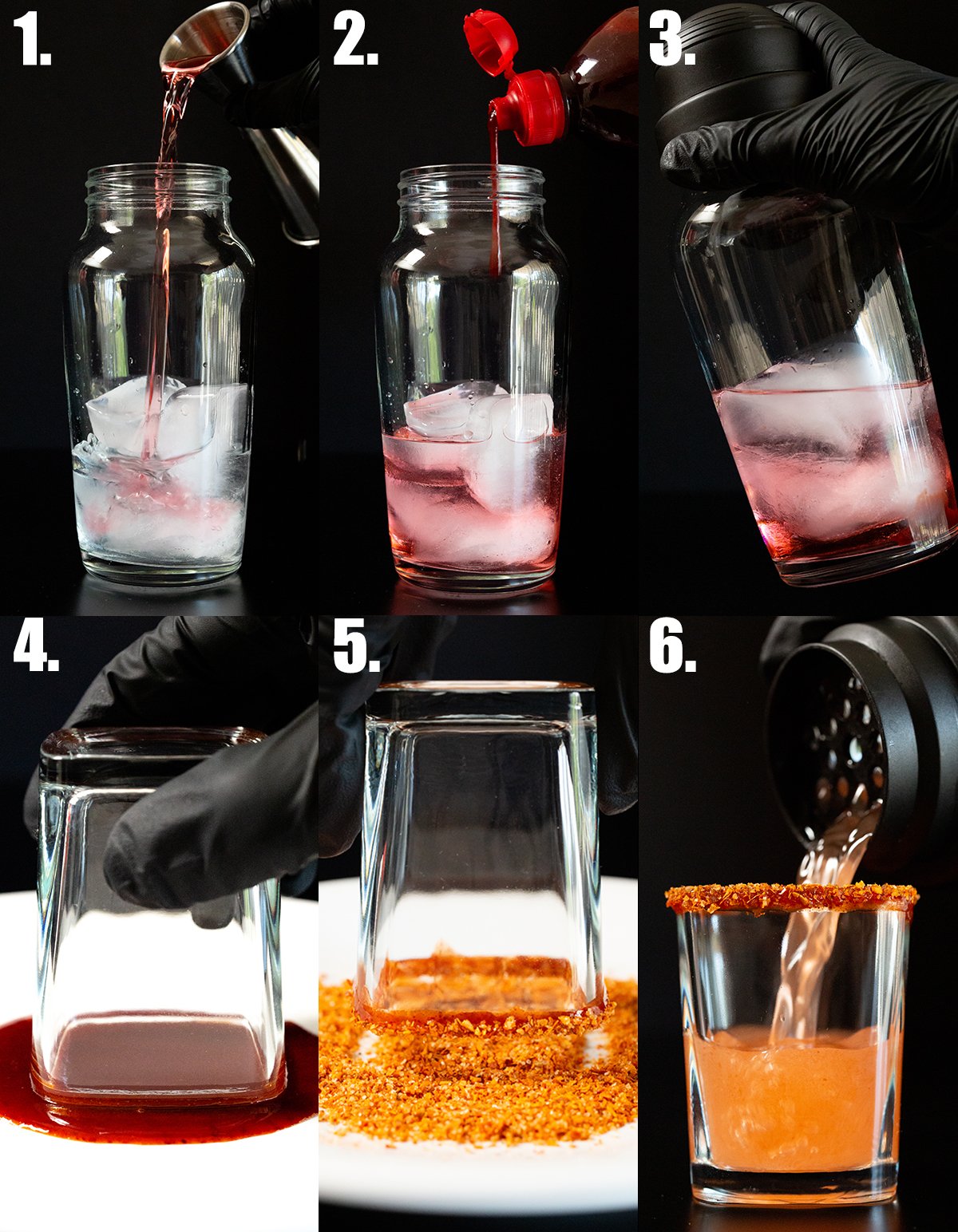 Pour the tequila and watermelon schnapps into a shaker with a few ice cubes.
Add a few drops of chamoy or hot sauce.
Shake the shaker lid and shake the ingredients until combined.
Dip the rims of your shot glasses in Chamoy or hot sauce.
Then in Tajin.
Pour the contents of the shaker into your shot glasses.
Tips
Double the recipe and serve in a highball glass over ice if you prefer to sip it as a drink rather than a shot.
No shaker? Use a mason jar with a lid, a tumbler, or even a protein shaker.
Looking for more Mexican-inspired drinks? Try a Mexican Mule or a Cantarito.
To print
Mexican candy shot
A sweet and fruity tequila with a hint of spice.
Ingredients
2oz Tequila
1 ounce watermelon schnapps
4 Chamoy drops or hot sauce (+ more for the rim)
1 tbsp Starch
2 Lime wedges (optional garnish)
Instructions
Add tequila, watermelon schnapps and 4 drops of hot sauce to a shaker with a few ice cubes. Shake until well blended.
Dip the rims of two shot glasses in chamoy, then in Tajin.
Pour the contents of the shaker into the two shot glasses and serve with a wedge of lime.
Enjoy!