This website may contain affiliate links and advertising so that we can provide you with recipes. Read my privacy policy.
This Creamy Lemon Chicken Piccata is a quick and easy meal that's on the dinner table in 30 minutes! Tender breaded chicken in a creamy lemon sauce the whole family will love.
Chicken is a favorite protein here with its mild flavor. It works for so many different recipes! You'll have to try some of my other favorites, Lemon Garlic Chicken, Marry Me Chicken, and Tuscan Garlic Chicken!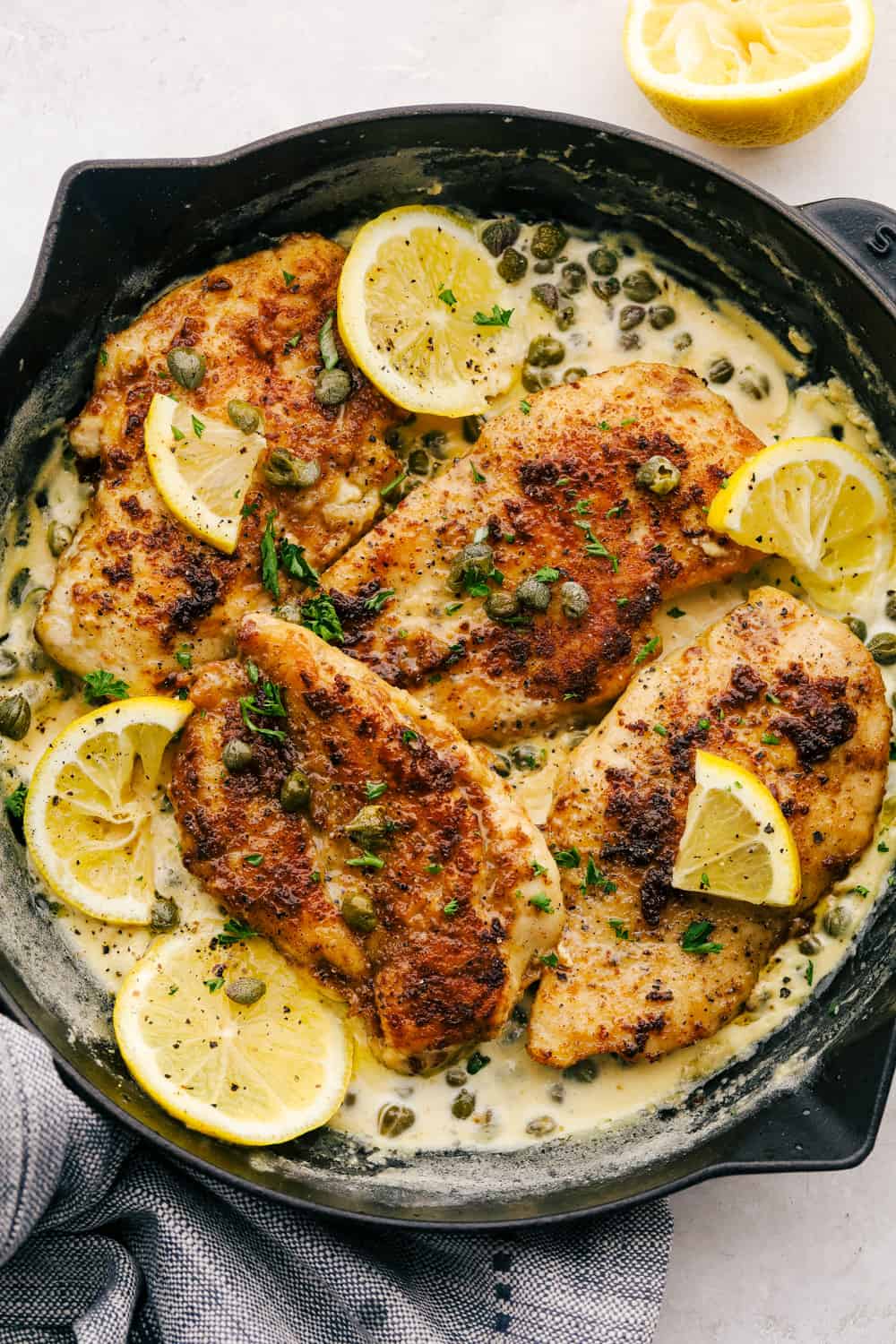 Creamy Lemon Chicken Piccata Recipe
One of our favorite dishes of the week was this creamy chicken piccata. My favorite part was that it was a one pot meal and ready to eat in 30 minutes! It also means easy cleaning! It's like the classic chicken piccata dish, but with the added lemon flavor. It makes it taste so fresh and delicious in the creamy sauce. The chicken has a delicious breading on the outside and is so Perfect served over pasta. Everyone in my family loved this meal. It had such a delicious flavor and will be one we make again and again!
This American-Italian favorite is so creamy and delicious. Piccata literally means pounded flat and cooked in a lemon, parsley and butter sauce. Cooked in one pot and in 30 minutes you can have an amazing meal on the table in no time. Don't be afraid of capers! They really make the dish amazing. If you have never eaten them, this is the perfect dish to try them. If you like seafood, you will also have to try this salmon piccata! It's so delicious and filled with light and bright flavors!
Ingredients needed
Super simple ingredients come together to create an irresistible meal. Accompany your creamy lemon chicken piccata with a nice green salad, breadsticks or homemade bread rolls, and you have a winning dinner on your hands!
Chicken: Boneless, skinless chicken breasts, flattened if necessary. This is how they cook more evenly!
Salt and pepper: Season as desired.
Flour: Creates a nice breading on the chicken.
Butter: To cook the chicken in it. It also adds a deliciously rich flavor!
Olive oil: Also used for cooking and adding flavor.
Chicken broth: A tasty base for the sauce.
Lemons: Fresh whole lemons to use for juice and garnish.
Heavy cream: You can also substitute half and half, but the texture won't be as creamy.
Capers: Look for them with pickles and jarred pepperoncini.
Parsley: (Optional) For garnish and additional flavor.
Angel hair pasta: You can also use spaghetti if you wish.
What are capers?
If you've never had capers before, this is the perfect introduction. They are usually served with chicken and salmon dishes, adding a ton of flavor. Capers are under the ripe flower buds of a plant known as the caper bush. The capers are picked and dried. Then they are marinated to create that tangy, salty, brackish flavor that is out of this world delicious.
These little pea-sized condiments produce big flavor. A little goes a long way. Use them in salads, pasta and chicken. Due to their lemony flavor, they are also excellent with fish. You'll have to try them in these other recipes: Seared Scallops in Lemon Caper Sauce, Pasta Puttanesca with Chicken, and Lemon Salmon Piccata.
Make the Perfect Lemon Chicken Piccata
If necessary, take the time to pound your chicken so that it is very fine. You will not regret it. They will cook faster and more evenly!
Prepare the skillet, season the chicken: Heat 2 tablespoons of butter and 2 tablespoons of oil in a large skillet over medium-high heat. Then salt and pepper each side of the chicken breasts
Adjust thickness: If the chicken breasts are too thick, pound them to make them thinner. The cooking time will then be shorter.
Flour: Using a shallow bowl, dredge chicken in flour mixture.
Brown: Then put the chicken breasts in the pan. Cook for about 3 minutes on each side, or until cooked through and no longer pink. Then remove from the pan and set aside on a plate.
sauce: Reduce heat to medium-low. Then add the lemon juice, heavy cream and capers. Bring the sauce to a boil then return to medium-low heat. Test the sauce then season with salt and pepper as needed. Let the sauce cook and bubble for about 3 minutes.
Serve: Serve the chicken over cooked pasta, then pour the piccata sauce on top. Sprinkle with chopped fresh parsley.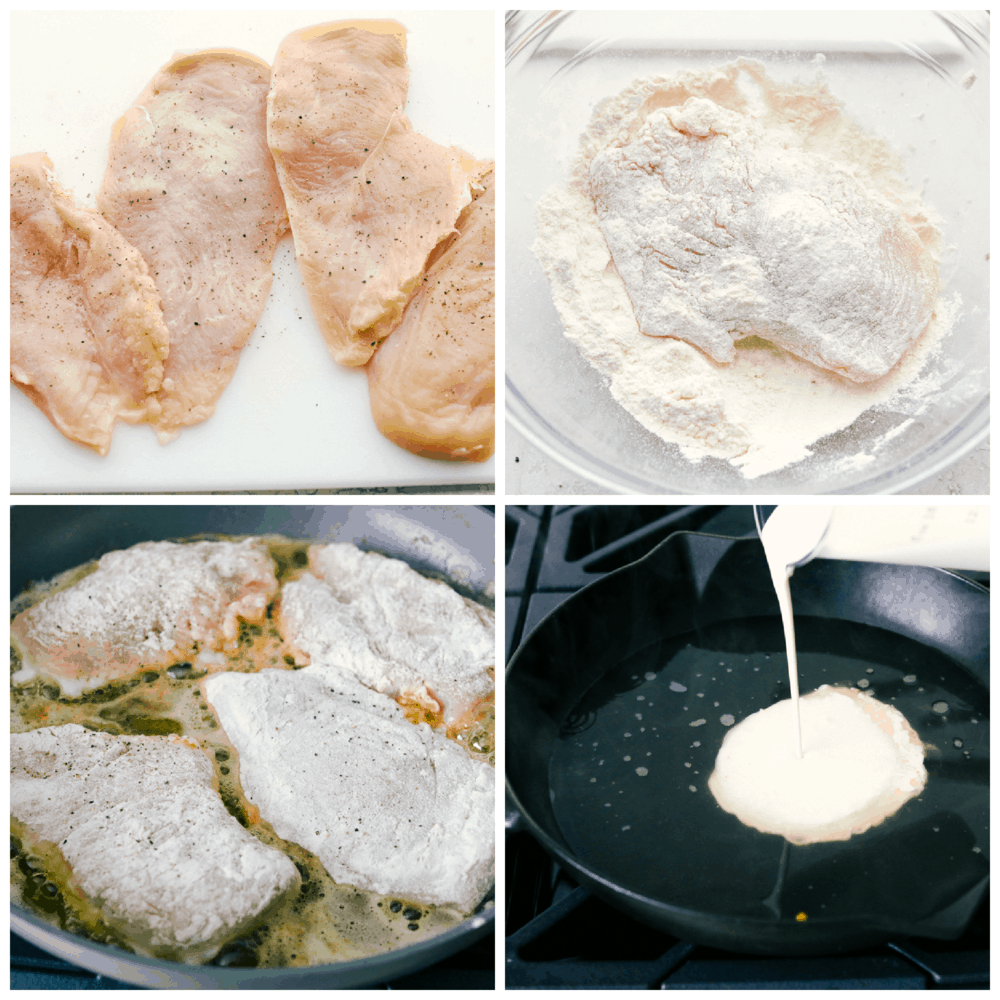 A reader's opinion
I just did it and it's amazing. Tastes just like what you order at a local restaurant! It was easy to make and the presentation was excellent. You will not be disappointed !
Cheryl P.
Tips and variations
Here are some ways to change up this simple dish! You will love this Lemon Chicken Piccata. And it can easily be changed to suit your personal taste! It can also be made keto if you want a more diet option!
Noodles: Really any type of pasta can be used to serve this delicious lemon piccata dish. (Wanna change things up? Try tagliatelle!) You can also serve them over steamed vegetables, mashed potatoes, or rice.
Keto/Low-Carb: To make this meal keto-friendly, use almond flour to coat your chicken instead of all-purpose flour. You'll also want to replace the angel hair pasta with protein-rich zucchini noodles or chickpea noodles.
Chicken: Make sure your chicken is lean! You can finely pound each chicken cutlet or cut it in half, either way this will create the size you are looking for.
Fresh lemons: I wouldn't recommend using bottled lemon juice here. It won't taste the same. Fresh lemon really brings this piccata together.
Capers: Some find capers too salty. If you want to avoid this, simply rinse the capers before adding them.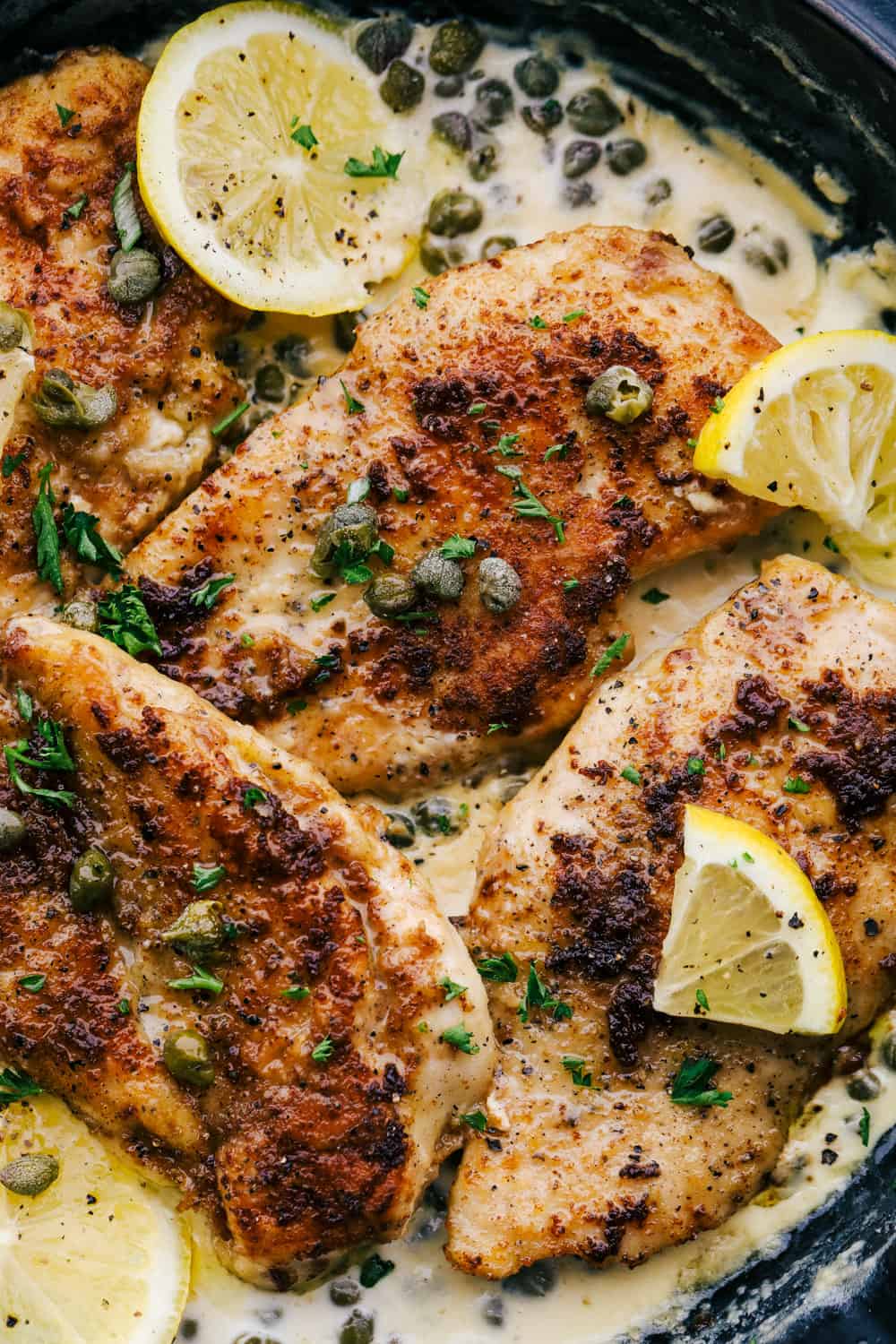 Storing Leftover Lemon Chicken Piccata
Another reason why this recipe is the best: it makes fantastic leftovers! This chicken piccata can be reheated easily for a bright and flavorful lunch.
In the refrigerator: Store your Lemon Chicken Piccata in the refrigerator in an airtight container for up to 4 days. Then reheat the leftovers in the microwave or on the stove.
Note: It's best to keep the chicken and sauce separate from the noodles so they don't get soggy.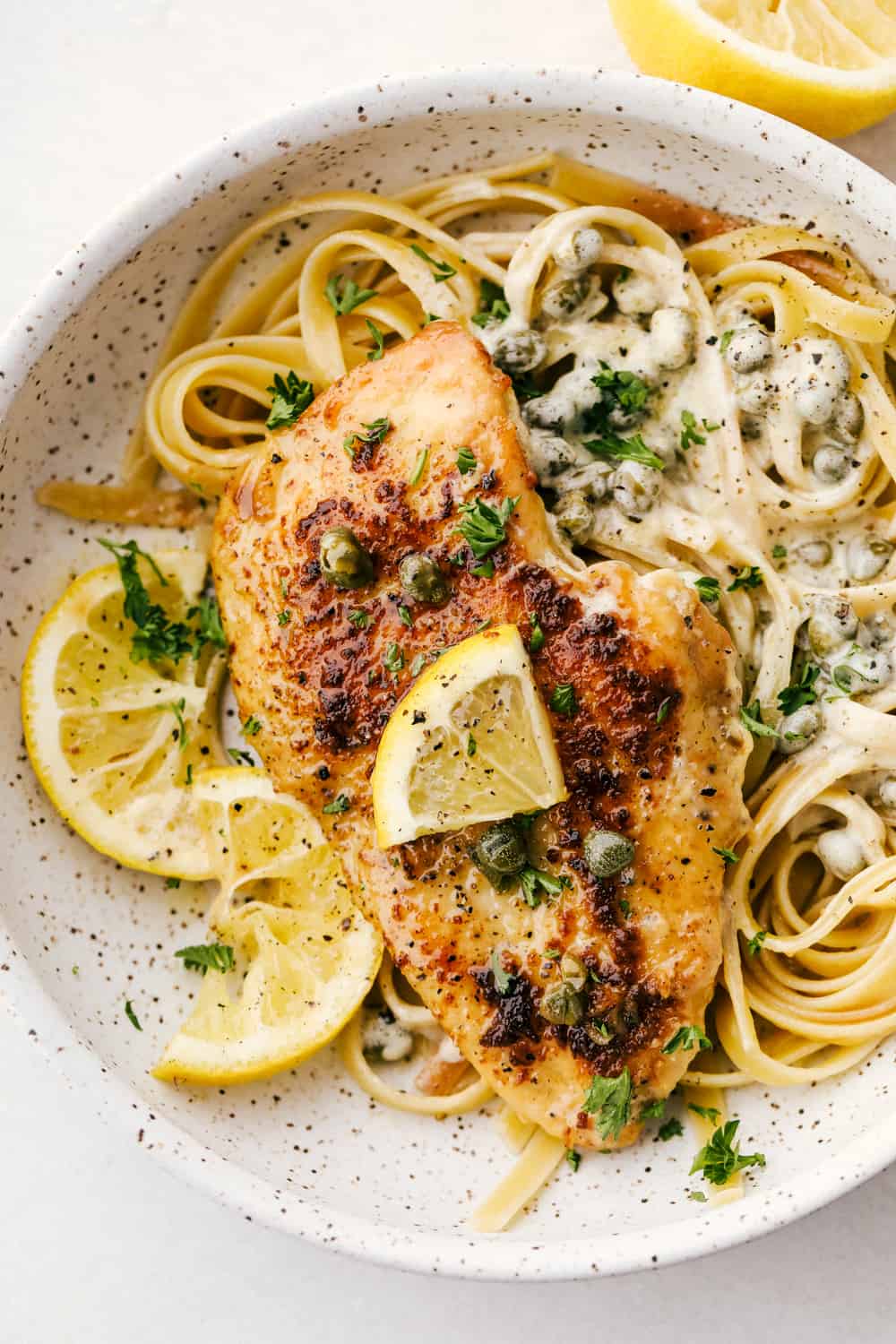 ---
---
Updated on February 13, 2023
Originally published on April 6, 2015
---
Serves: 4
calories994calories (50%)Carbohydrates98g (33%)Protein66g (132%)Fat37g (57%)Saturated fat17g (85%)Cholesterol221mg (74%)Sodium855mg (36%)Potassium1244mg (36%)Fiber6g (24%)Sugar4g (4%)Vitamin A914UI (18%)Vitamin C36mg (44%)Calcium86mg (9%)Iron3mg (17%)
All nutritional information is based on third-party calculations and is an estimate only. Each recipe and nutritional value will vary depending on the brands you use, measuring methods and serving sizes per household.
To safeguard