This website may contain affiliate links and advertising so that we can provide recipes to you. Read my privacy policy.
This chocolate charcuterie board is a chocolate lover's dream! Enjoy a chocolatey assortment of cookies, truffles, chocolate-covered pretzels, and fruit, along with decadent sauces for dipping!
Calling all chocolate lovers because this charcuterie board is for you! This dessert board is perfect for any gathering or celebration and your guests will LOVE the rich and endless options for them to indulge. If you need more ideas for delicious chocolate desserts to take to a party then I have some good ones! This cake is a must, these brownies are amazing, and this fudge is always a crowd favorite.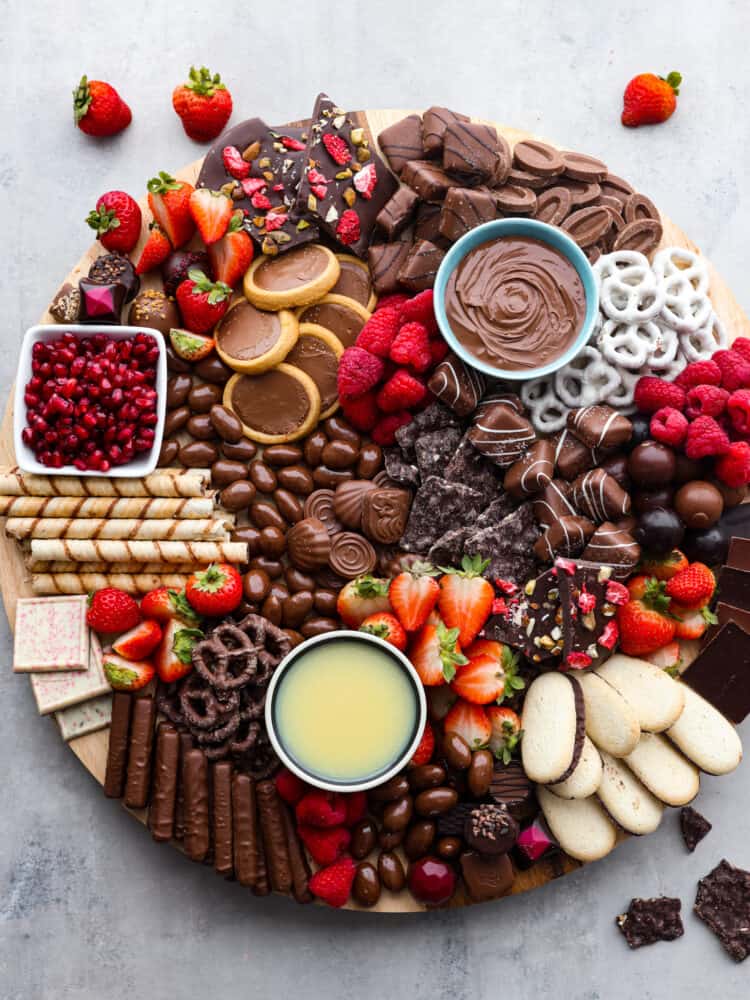 The BEST Chocolate Board
This chocolate charcuterie board is absolutely perfect for any party or get-together this season. It's large enough to feed a crowd and you can put enough things on it that there is something for everyone. My favorite part of this board is that the possibilities are endless. Feel free to add anything to the board that is made with chocolate or that pairs well with chocolate. This board is so fun to make!
I love making a charcuterie board for any occasion or holiday! It only takes a few minutes to put together and when you're done it looks like a million bucks! If you are looking for more ideas to arrange a charcuterie board, then check out this fun Christmas dessert board, this classic board, or this themed one!
Start With Sauces On a Chocolate Charcuterie Board
Dipping is the best part of any charcuterie board! Start by filling the board with delicious dips to add even more decadence to the board. Your guests will love dipping their fruit and drizzling more chocolate over their selections. Get creative with your sauces. I like to include a white chocolate sauce as well as a dark chocolate sauce. This dessert board is so versatile and your guests will appreciate the options!
It's Time For More Chocolate
After all, this is a chocolate charcuterie board, so it's obvious who the star of the show is. Chocolate candy in all shapes and sizes is a must! Choose any variation of candy you and your guests will like. You really can't go wrong here. When you walk down the candy aisle the ideas will start flowing. You'll want all the yummy treats for your board. Display all of your favorite chocolate candy and sweets in one place! Here are a few I chose to use.
V Chocolates Little Mints
Bark Thins
Homemade Chocolate Bark 
Carmilia Milk Chocolate Oval Shape
Assorted Truffles of choice
What Fruits Do I Use for a Chocolate Charcuterie Board?
The fruit may be my favorite part of this charcuterie board! I love adding color, texture, and taste so that I can bring in a little something for everyone! It also adds some fruity options for guests that don't love chocolate. I chose berries for this board because it complements chocolate perfectly. But any kind of fruit can be added to your board. Fruit and chocolate are a match made in heaven!
Raspberries
Pomegranate Seeds
Strawberries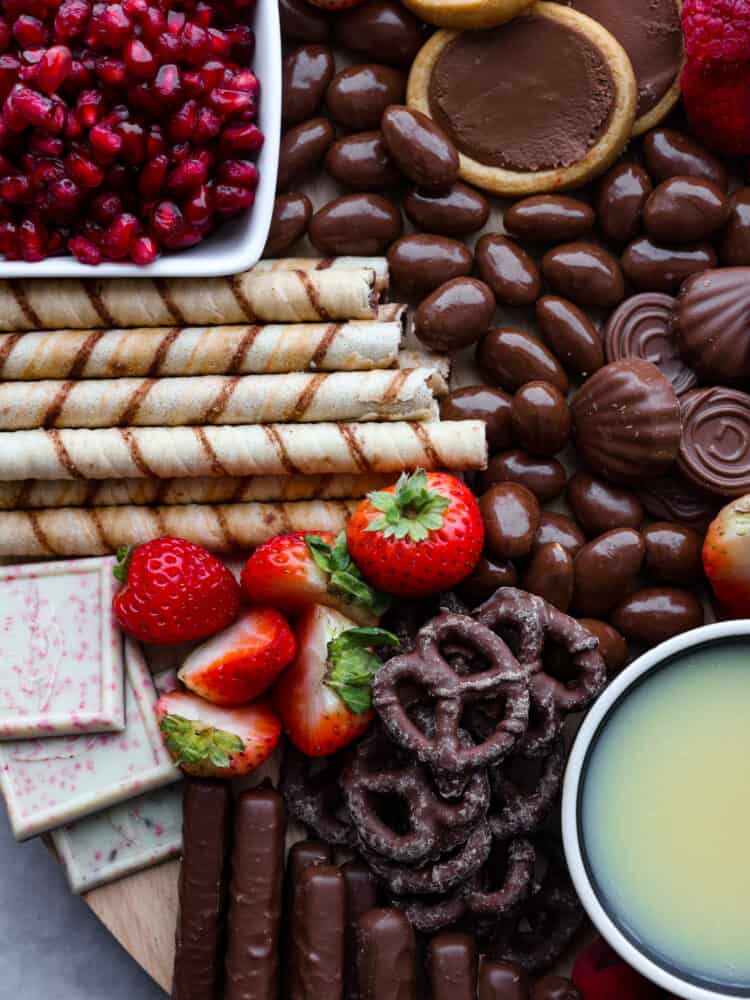 Add Some Delicious Cookies
Cookies add delicious texture and variety to your charcuterie board. There are so many fun cookie flavors that are covered or drizzled in chocolate. I chose caramel, hazelnut, and dark chocolate sea salt cookies, but you can choose any variety of cookies you want. Choose cookie flavors for every palate because your guests will love all of the variety! Here are the cookies I included on my board.
Belgian Boys Chocolate Caramel Cookie Tarts
Pirouline Chocolate Hazelnut Wafers
Milano Dark Chocolate Sea Salt
Chocolate Covered Nuts and Pretzels
Fill in all the spaces on the charcuterie board with smaller ingredients like pretzels and almonds. I love using any kind of chocolate-covered nuts for this board. Chocolate-covered dried fruit like raisins and blueberries would also be delicious. Have fun scattering all these goodies around the board because everyone is going to want a taste of everything! Anything that goes with chocolate works for this board.
Chocolate Covered Pretzels dark and white
Chocolate Covered Almonds
V Chocolates Little Caramel Pretzels
How to Make a Chocolate Charcuterie Board
Now it's time to arrange and assemble your board! Have fun with it because everyone is going to love this board. Follow my step-by-step instructions below. I walk you through every detail to make this charcuterie board a success! Once you make this beautiful board, it will be hard not to pick at it before your guests arrive because it will be so tempting! I can't wait for you to make this board.
Arrange the Sauces: On a large wooden board add the bowls of sauces. Arrange them evenly throughout the board.
Add the Fruit: Add the pomegranate seeds to a small bowl. Place the bowl on the board then fill in the spaces with raspberries and strawberries.
Add Cookies, Chocolates, Almonds, and Pretzels: Add the cookies, almonds, pretzels, and truffles to the board. Evenly space the ingredients on the board for variety then enjoy!
Charcuterie Board Tips
This chocolate charcuterie board is the best dessert all year-round. I love making this board for the holidays because I always have a party to go to. When I show up with this charcuterie board I am the most popular person in the room! Here are a few ideas on how to make this board your own! 
Use a Variety of Chocolate: Make sure you use different types of chocolate. Not everyone likes dark, so make sure you have milk and white options. Choose high-quality chocolate for chocolate connoisseurs.
Add Different Fruit: If you have bowls of dipping sauce, add all kinds of fruit! Any fruit dipped in chocolate is delicious. Add sliced bananas or apples for dipping.
Make it Kid-Friendly: For a charcuterie board that your kids will love, so add some kid-friendly treats. Chocolate-drizzled Rice Krispy treats would be a favorite for the kiddos!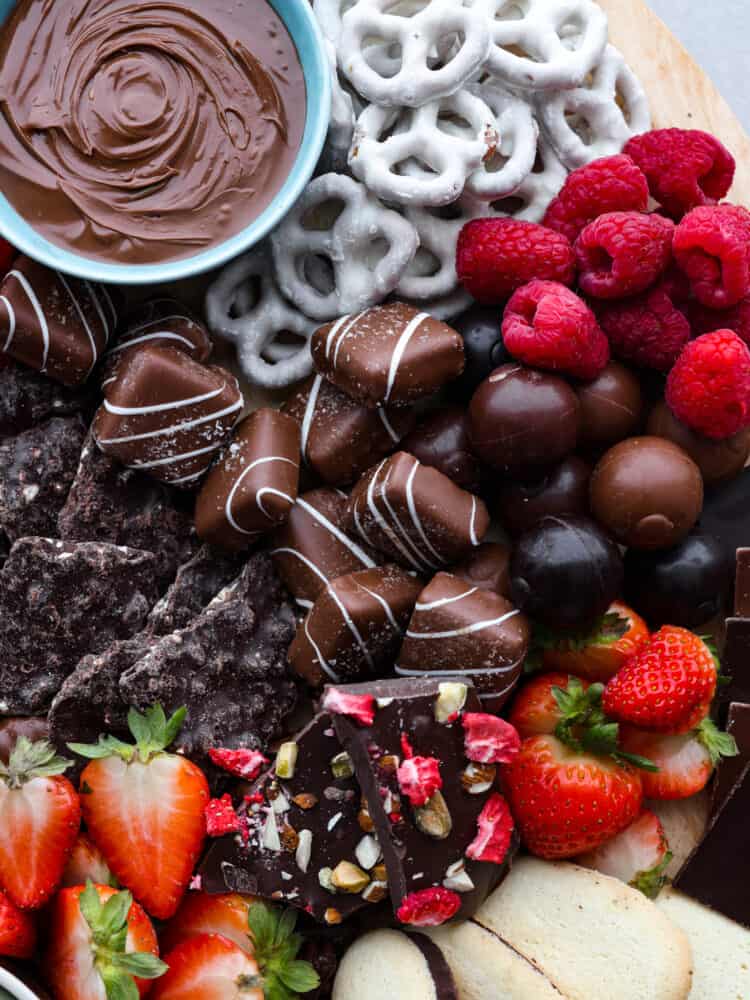 Storing the Leftovers
I like to keep the packaging from the ingredients so it makes restoring them easy and convenient. It's easy to place leftovers back in the original packaging or simply store the ingredients in zip-lock bags and then keep them in a dry cool place. It makes snacking the next day easy when you have a sweet tooth! Be sure to store leftover fruit in the refrigerator in a sealed container.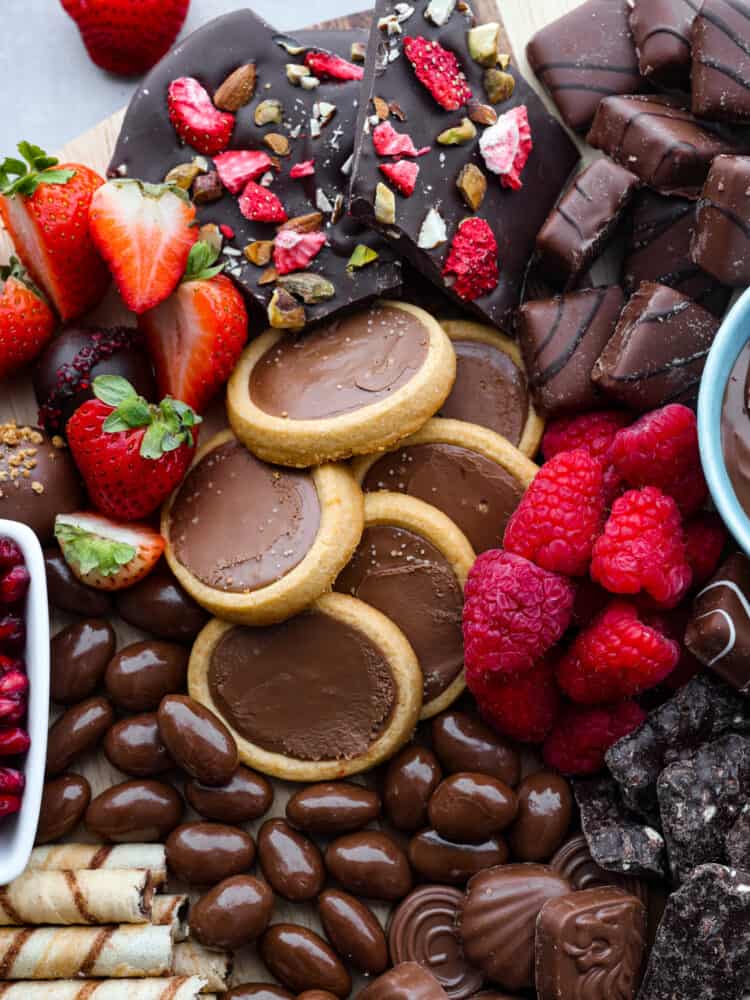 No Wood Board? No Problem!
You don't have to have an expensive wood charcuterie board to achieve this chocolate charcuterie board. The display of sweets will speak for itself, so it doesn't matter what is under it all. Be creative and use whatever you have on hand! Here is a list of ideas for you to create the best board.
Baking Sheet: Rectangle shapes work too! Just grab a cookie baking sheet then start arranging your chocolate.
Pizza Pan: The round shape does the job! A pizza pan is perfect.
Large Platter: You most likely have a large platter in your cupboard. A large platter for serving your turkey perhaps?
Large Cutting Board: A large cutting board works too! With any luck, it's already wood.
Butcher Paper: Slap some brown butcher paper on your kitchen counter. Then make it look beautiful with your dessert board.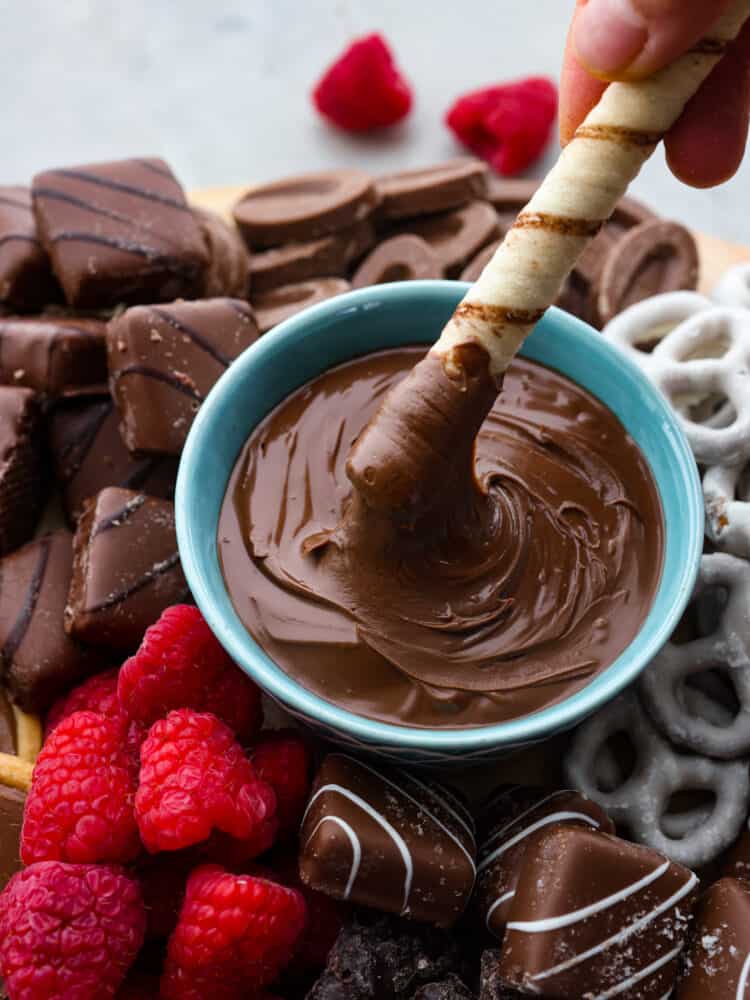 Chocolate Covered Nuts and Pretzels:
---
On a large wooden board add the bowls of sauces. Arrange them evenly throughout the board.

Add the cookies, chocolate-covered almonds, pretzels, and truffles to the board. Evenly space the ingredients for variety.

Add the pomegranate seeds to a small bowl. Place the bowl on the board and fill in the spaces with raspberries and strawberries.
---
---
Serves: 12
Serving1cupCalories26kcal (1%)Carbohydrates4g (1%)Protein0.4g (1%)Fat1g (2%)Saturated Fat1g (5%)Polyunsaturated Fat0.1gMonounsaturated Fat0.01gSodium1mgPotassium46mg (1%)Fiber1g (4%)Sugar3g (3%)Vitamin A5IUVitamin C10mg (12%)Calcium8mg (1%)Iron0.3mg (2%)
All nutritional information is based on third party calculations and is only an estimate. Each recipe and nutritional value will vary depending on the brands you use, measuring methods and portion sizes per household.