Serve your Halloween punch in IV bags for the ultimate spooky season cocktail. Only four ingredients are needed to make it.
My favorite way to serve punch at a Halloween party or movie night is in these fake blood bags. They're a budget-friendly and efficient way to really creep out your guests (except for the vampires – they'll love 'em!).
You can fill them with any number of cocktails, but my favorite is a simple cran-grape juice and apple cider based punch that is super easy to make. 
This post contains affiliate links (when you buy we make a little money at no cost to you). See our disclosure for more information.
After all, there's so much to do when throwing a party having a quick & simple batched cocktail you can throw together is key!
If you'd rather make a spooky green blood bag drink instead, use my recipe for a Midori Sour or Halloween margaritas. 
Ingredients
Cran Grape Juice – If you'd like, you could use cranberry juice or grape juice instead. Whatever you choose, I highly suggest using 100% pure juice for the best flavor. 
Apple Cider – Apple juice will work as well, but we love the depth of flavor apple cider brings to the punch.
Ginger Ale – Want a little extra bite and a stronger ginger flavor? Use ginger beer instead. 
Rum – Spiced Rum or dark rum both work well.  Bourbon is a good substitute, and vodka works well for a more subtle alcohol taste.
How To Make
Step 1
Add all the ingredients to a pitcher or mixing bowl and stir to combine. (I highly recommend chilling all the ingredients beforehand.)
Step 2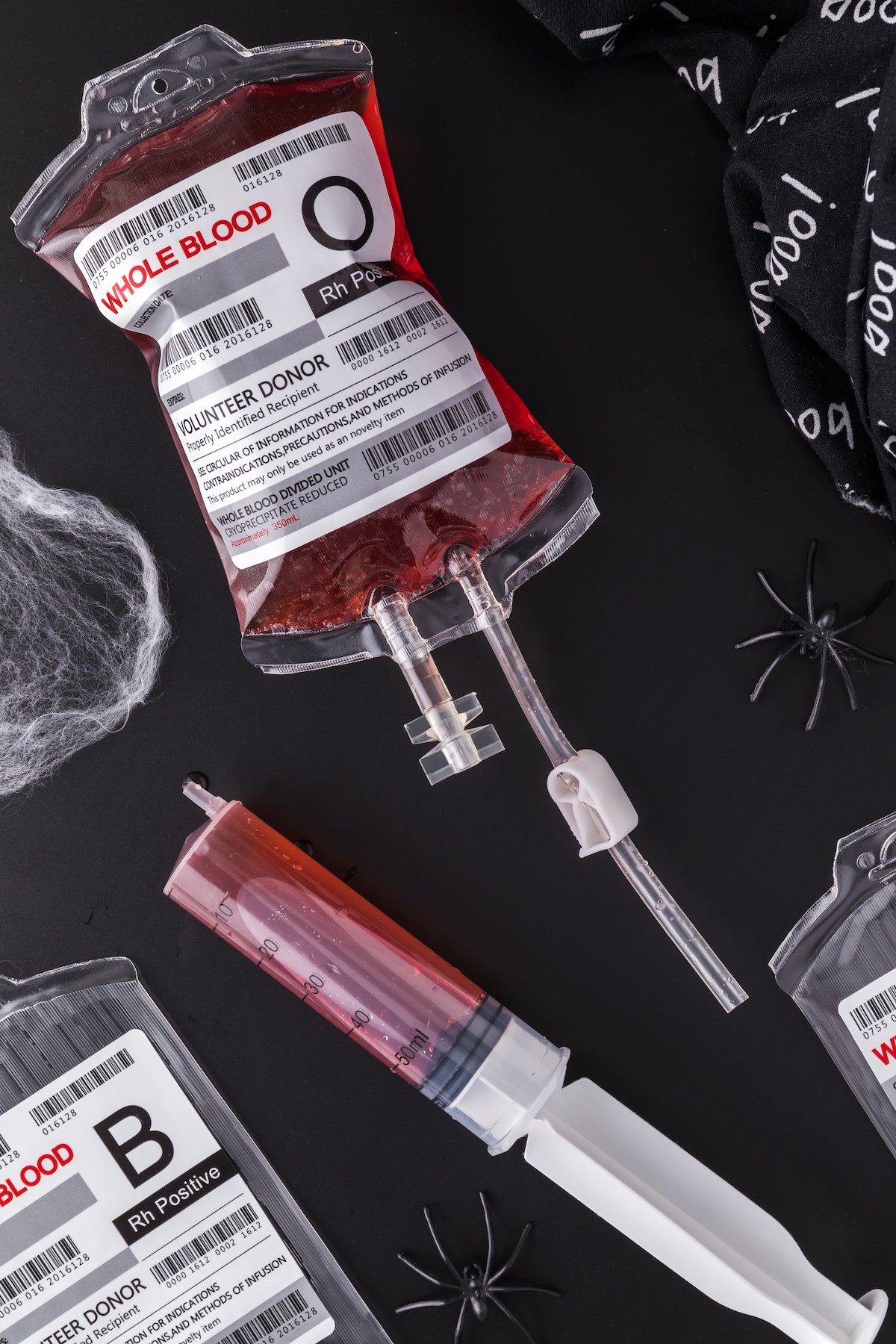 Fill the syringe or funnel included with your blood bags and fill with the punch mixture. Clip shut with the provided clip so there is no leakage.
Tips
Before purchasing, ensure that the blood bags are "food-grade" so you know that they are safe to serve drinks out of.  
Looking for an upscale cocktail to fill them with? Try a Negroni recipe or a tiki drink – like a jungle bird. 
Serve them with vampire teeth for extra Halloween fun.
This drink can be served in a punch bowl instead of blood bags. 
Guests love when I serve this alongside Witches Brew drinks. 
Serve in a Halloween punch bowl filled with ice to keep the bags chilled.
Variations
Green
Green blood bags are the most popular variation. You can make any light colored cocktail green by using edible glitter.
Or, fill them with a cocktail that is already green – like a Tokyo Iced Tea (careful, they are strong!) or a lighter Japanese slipper. 
Non-Alcoholic 
To make them non-alcoholic, replace the amount of alcohol with more juice or other mixers. Kids love them when made with Hawaiian punch!
Bloody Mary 
It's hard to think of a more perfect cocktail than a bloody Mary to fill an IV bag with! Simply big batch a traditional bloody Mary recipe and fill the bags. 
Print
Blood Bag Drink
A creepy Halloween cocktail that looks like an IV bag filled with blood.
Author: Jessica Pinney

Prep Time:

10 minutes

Total Time:

10 minutes

Yield:

1

2

1

x

Category:

Cocktails
Ingredients
32 ounces Cran-Grape Juice
32 ounces Apple Cider
16 ounces Ginger Ale
375ml Spiced or Dark Rum
Instructions
Attach the stickers to your food-grade IV bags.
Add all the ingredients to a large pitcher or mixing bowl and stir to combine. (If you don't have a pitcher or bowl that can hold at least 92 ounces, mix in two separate batches).
Use the funnel or syringe included with your bags to fill them with the punch.
Clip shut with the provided clip so there is no leakage.
Store in the refrigerator or in Halloween cooler or a punch bowl filled with ice until ready to serve.