Crispy, juicy salmon bites cooked in the air fryer and served with garlic cream sauce. It's one of the easiest family-friendly seafood dinners you can make!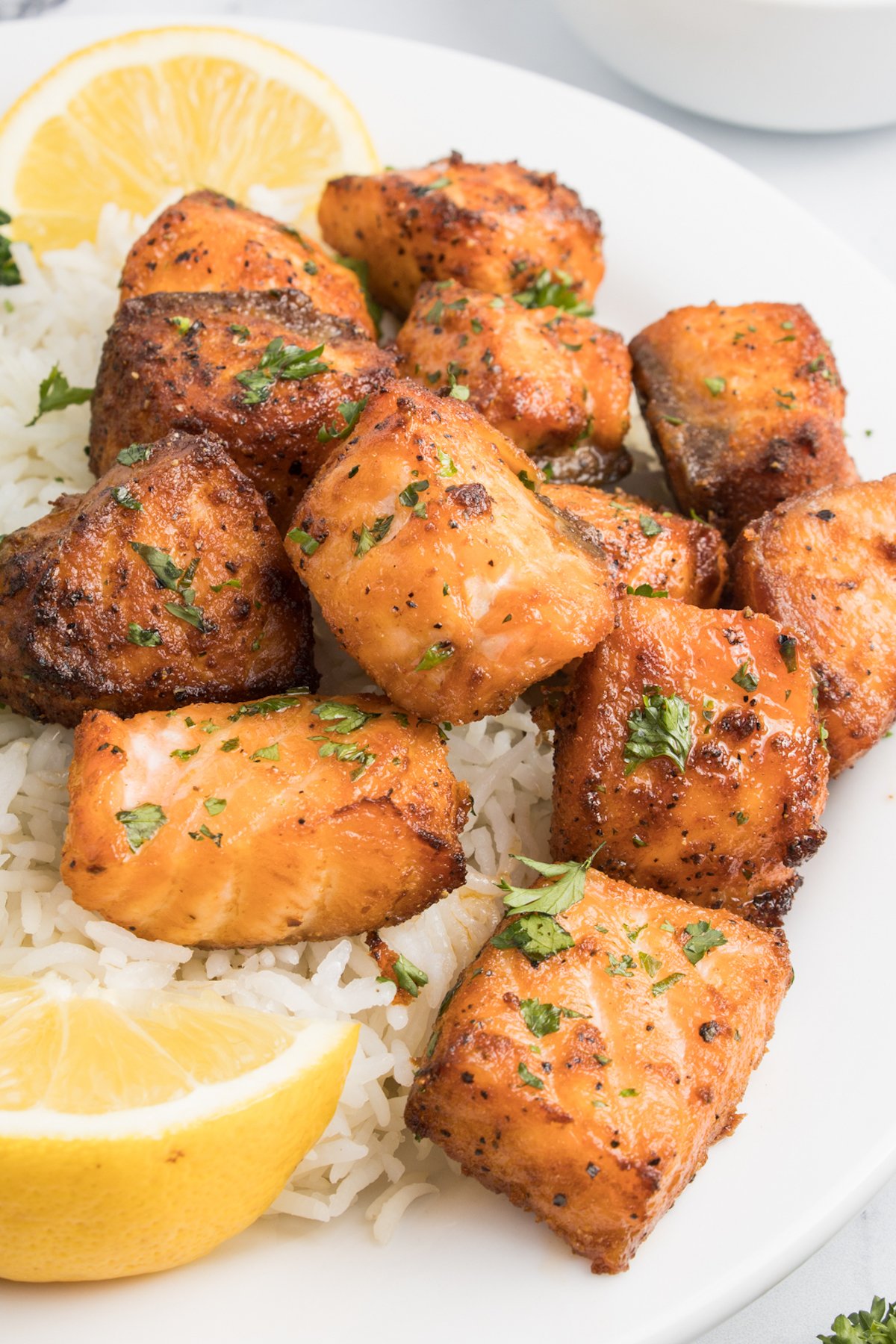 If you haven't tried them yet let me tell you, air fryer salmon bites are an absolute game changer!
They're crispy, flavorful, and so easy to make that even the most inexperienced cook can whip them up in no time. If you have a knife, a cutting board, a bowl, and an air fryer – you've got this!
And if you've ever struggled to cook salmon perfectly, this is going to be your new favorite recipe because it is fool-proof. It literally comes out perfectly every time!
The air fryer gives the salmon a crispy crust, but it also helps to lock in the moisture and flavor, making it the ideal bite. You'll never worry about dry overcooked (or slimy undercooked) salmon again.
One of my favorite parts is how customizable this dish is. You can season the salmon bites with your favorite spice mixes and experiment with different dipping sauces so that it never gets boring. 
I'm including a simple garlic cream sauce with this recipe, but we also love them with yum yum sauce and freshly made Meyer lemon mayo. 
Ingredients
Salmon – I prefer using fresh skinless salmon filets for this recipe.
Seasonings – I use garlic powder, onion powder, paprika, salt, and pepper. I'll sometimes use cajun seasoning instead. 
Butter – I use unsalted butter in this recipe. If you use salted, reduce the amount of salt in the seasoning. 
Garlic – 1 teaspoon of garlic powder could be used instead of minced garlic.
Heavy cream – Evaporated milk will work well as a substitute for heavy cream.
Parsley – Fresh parsley is an optional garnish. Green onions or chives could also be used.
This post contains affiliate links (when you buy we make a little money at no cost to you). See our disclosure for more information.
Why you should make this recipe
Nutritious. Salmon is a great source of omega-3 fatty acids, protein, and other essential nutrients, making it a nutritious choice for any meal.
Family-friendly. Kids and adults alike will love the crispy and flavorful salmon bites. They're like salmon nuggets!
Quick and easy. Cooking salmon in an air fryer is a quick and easy process, taking only about 10-15 minutes from start to finish.
Less mess. Cooking salmon in the air fryer reduces the mess typically associated with other cooking methods, making clean-up a breeze.
How to make
Season
Add cubed salmon to a small mixing bowl along with the seasonings.
Gently mix until each piece is well coated. 
Air Fry
Add seasoned salmon cubes to your air fryer basket in a single layer.
Air fry at 380°F for 12 minutes. (They are done when the salmon's internal temp is 145F. Use a digital thermometer to check.)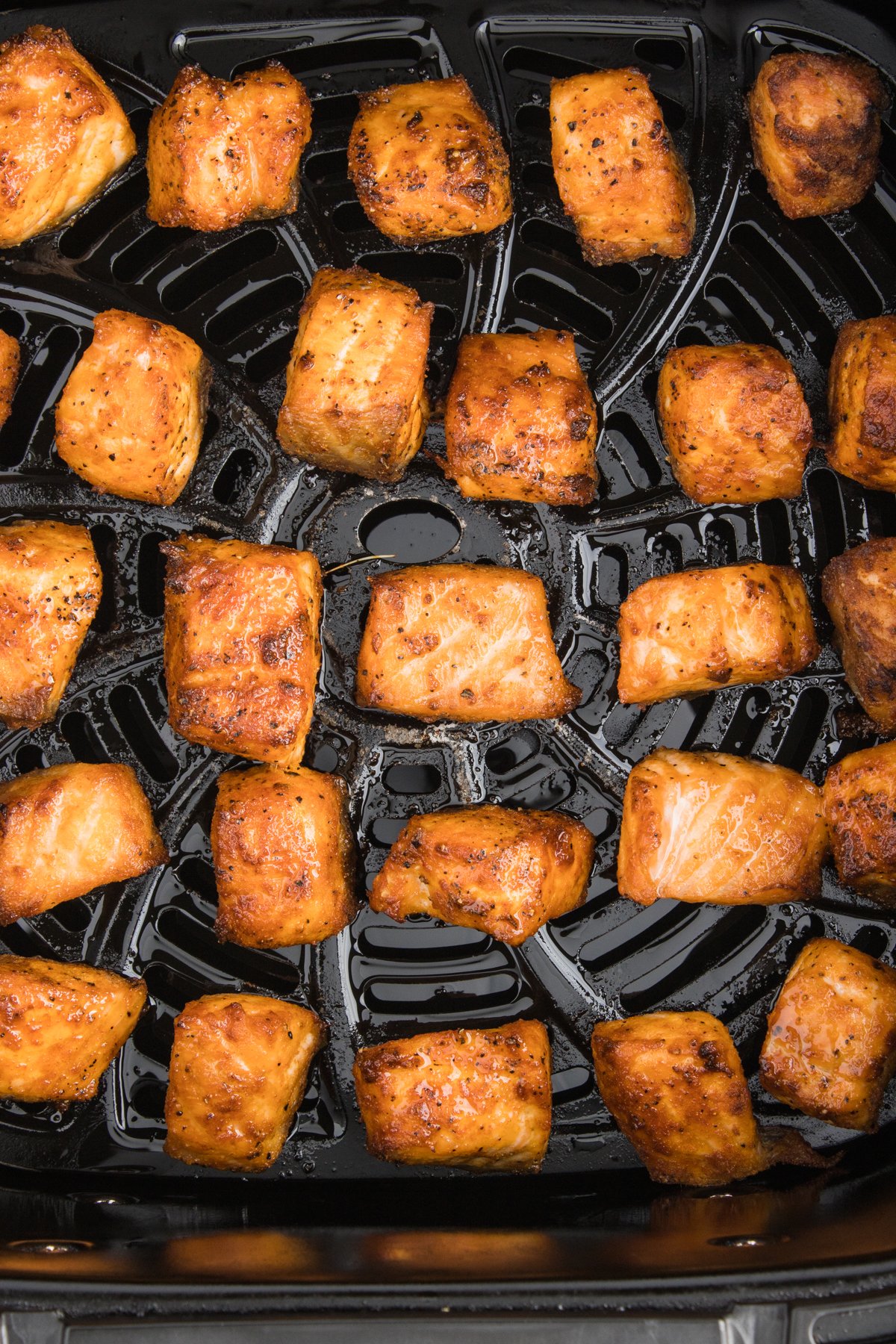 Sauce
I love serving these with a simple garlic cream sauce.
To make it, melt butter in a saucepan over medium heat and add minced garlic to it. Sauté the garlic and pour in heavy cream.
Stir and simmer the sauce until it thickens to your preferred consistency.
Plate your salmon bites and pour the sauce over the top of them. Enjoy!
Tips
Pat the salmon dry before seasoning. This will help the seasoning stick better to the fish, ensuring maximum flavor.
Preheat the air fryer. It's important to preheat your air fryer before cooking the salmon to ensure that it cooks evenly and crisps up nicely.
Use a cooking spray. Spray the air fryer basket with cooking spray to prevent the salmon from sticking to the bottom and ensure that it cooks evenly.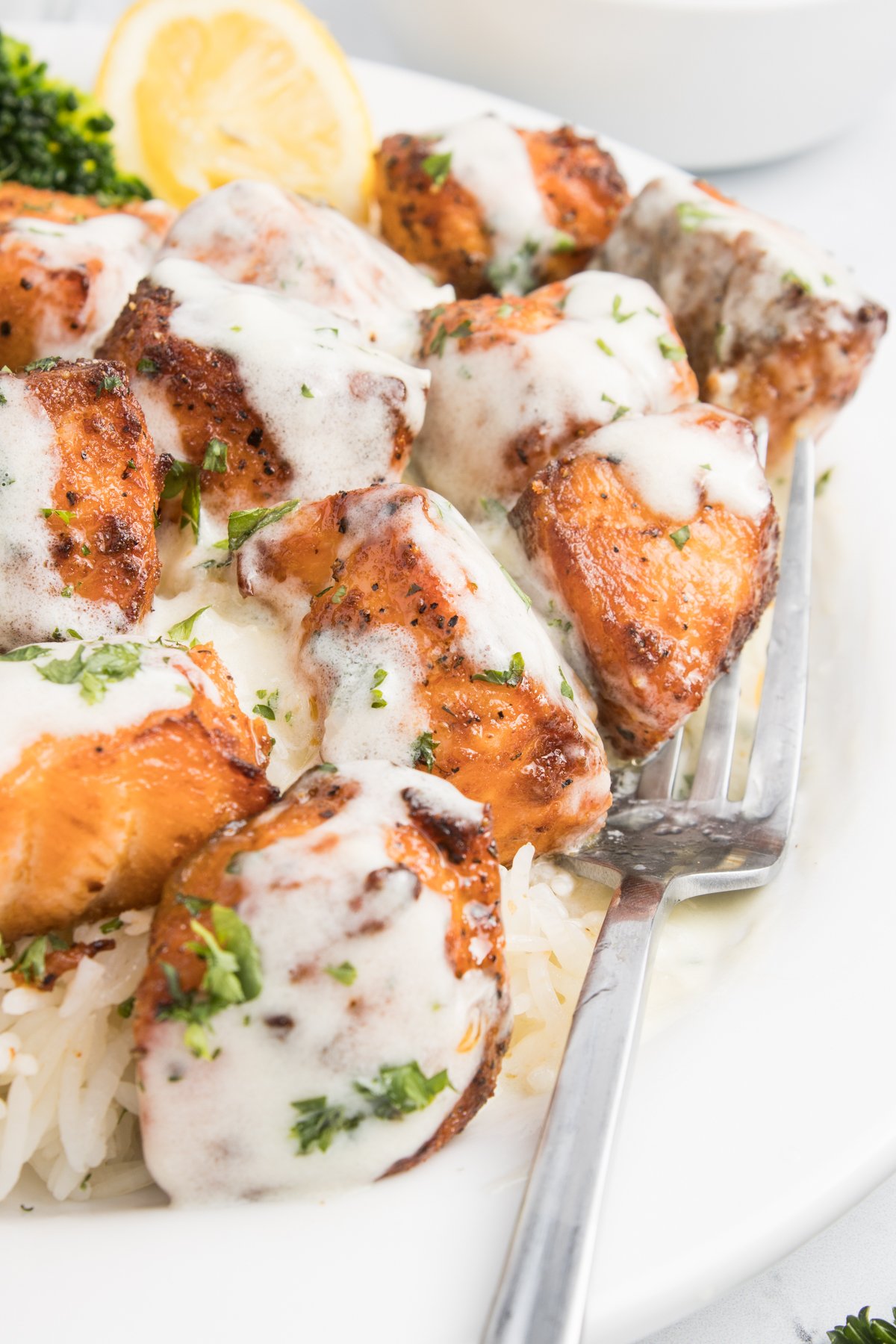 What to serve it with
It's great with rice, particularly this coconut rice made in the Instant Pot. It's also delicious served with mashed potatoes, baked potatoes, or twice baked potato casserole.
Kids love it when served basket style with french fries, corn on the cob, and this super creamy Instant Pot mac and cheese.
For a lighter meal, you can eat on top of a bed of mixed greens with other vegetables to make a delicious and healthy salad.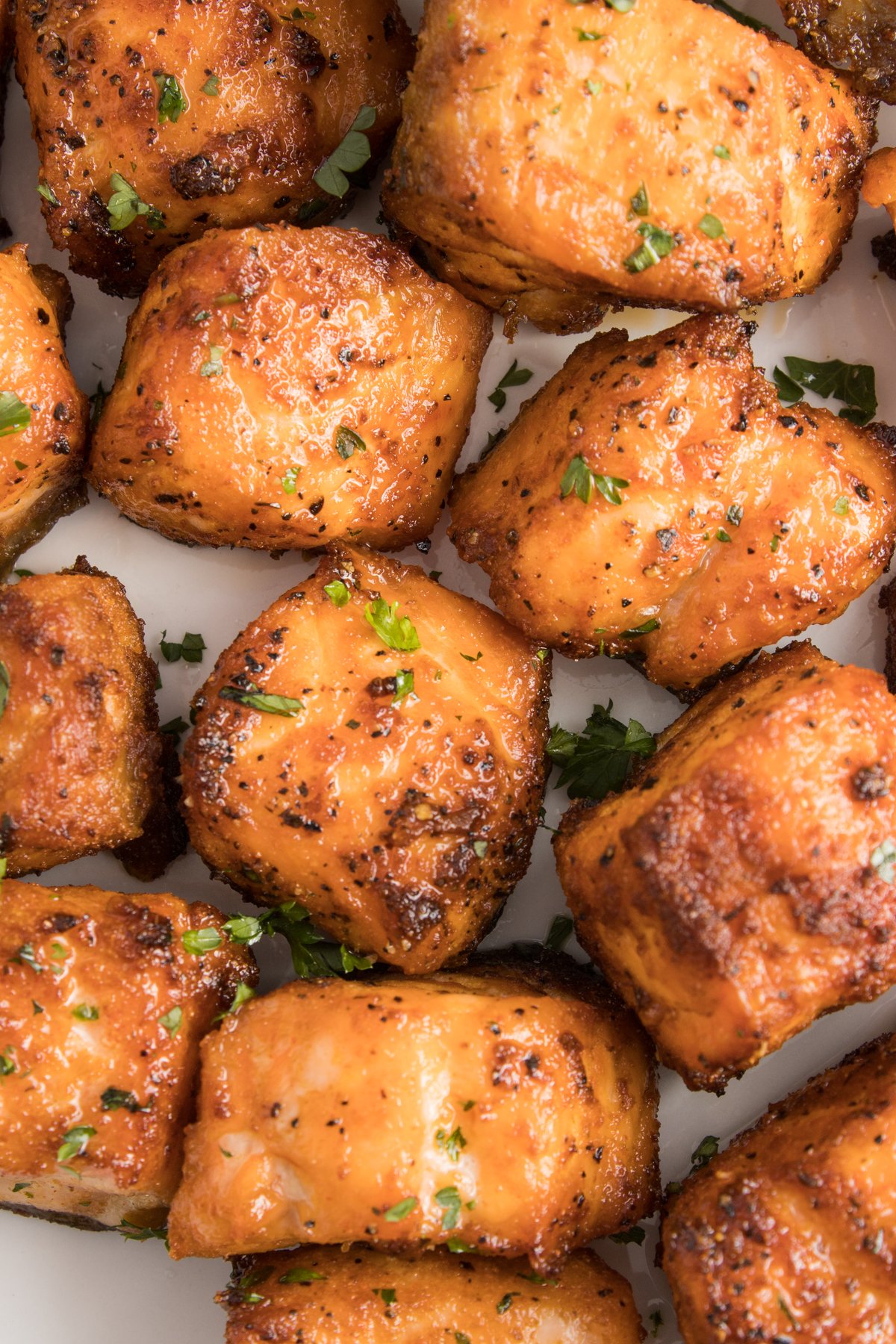 Print
Air Fryer Salmon Bites
Crispy, flavorful salmon nuggets cooked in the air fryer.
Author: Jessica Pinney

Prep Time:

5 minutes

Cook Time:

12 minutes

Total Time:

17 minutes

Yield:

2

1

x

Category:

Main Dish
Ingredients
Salmon Bites
8oz Salmon filet, skin removed and cut into 1" cubes
1 teaspoon garlic powder
1 teaspoon onion powder
1 teaspoon paprika
1⁄2 teaspoon salt
1⁄2 teaspoon black pepper
Garlic Cream Sauce
1⁄2 cup butter
1 tablespoon garlic (about 3 cloves), minced
1 cup heavy cream
Salt and black pepper, to taste
1 tablespoon chopped fresh parsley (optional)
Instructions
Preheat your air fryer to 380° F.
Pat your salmon filet dry with paper towels and use a sharp knife to cut it into 1-inch cubes. Place them in a large mixing bowl.
Add garlic powder, onion powder, paprika, salt, and pepper. Gently toss until all the salmon cubes are coated in the seasoning.
Coat your air fryer basket with olive oil, or spray with nonstick spray. Place the salmon bites in an even layer in the air fryer basket.
Air fry at 380° degrees Fahrenheit for about 12 minutes. The salmon cubes are ready when they reach an internal temperature of 145 degrees. I like to check the internal temperature of my salmon with a meat thermometer.
While the salmon bites are air frying, melt butter in a saucepan over medium heat and add minced garlic to it. Saute the garlic and pour in heavy cream.
Stir and simmer the sauce until it thickens to your preferred consistency.
Remove the sauce from the heat and add in the chopped parsley then set it aside.
Drizzle the creamy garlic sauce over the seasoned salmon bites and enjoy!